A glimpse at our New Year!
Today I am sharing my New Year's Resolutions. Since I am the girl who wrote a list of my Christmas gifts from Santa as I opened them, it is probably no surprise that lists are included. I personally love a list. I have been known to add things such as lunch, shower, etc. to my list just so I can have the joy of checking it off. Bear with me as I break down my resolutions. Stick around 'til the end for some printables to track your resolutions. Here are the resolutions (in no particular order).
#1 Exercise regularly
. Let me define regularly, by regularly I mean three to five times a week for a minimum of thirty minutes. Doable, I think! Exercise use to be part of my identity. I was an athlete. Lately it isn't even on the list. For 2012 I am putting it back on the list, literally. I will be tracking my exercise using this printable. (not all pages pictured)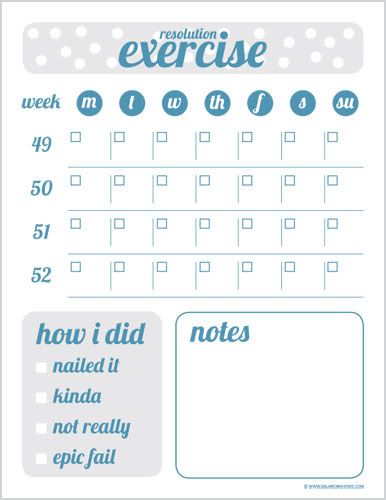 The printable includes 52 weeks. I will check my boxes and jot down the exercise and time. By the end of 52 weeks I am hoping exercise is a habit, a non-negotiable part of my life.
#2 Read one book a mont
h. Since having Eleanor seven months ago and starting this blog and the print shop all my spare time is spent on the computer it seems. I haven't curled up with a good book in too long. I love reading! I was an English major and it had nothing to do with grammar and everything to do with reading. I know I am busy so I want to make it attainable. If I read more than one book a month great, but I feel good knowing I am reading one book a month. It is nice to keep growing and exploring the world. Gotta keep this mom-brain sharp! I will be tracking my book goals using this printable.
Each month I will check the box (Yes! I love checking boxes) assuming I have read the book. I will jot down the title and any thoughts I have on it.
#3 Date night once a month
.  Over the holidays my dad called and offered to watch the kids if Ross and I wanted to go on a date. Umm…great idea dad! (Super thoughtful, right?). Up until that point Ross and hadn't done a date in like seven months or more. Taking time out for us needs to be part of the equation. I will use this printable to track/plan dates and keep us accountable.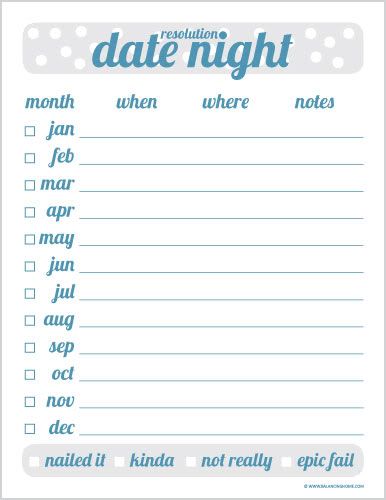 More check boxes! I like to keep things simple. Check of the month when the date is completed and a little spot for the date, the where and any other notes. I don't want to get greedy here, but I am really hoping that we can change it up and not just do dinner and a movie for every date. Maybe we should do a date brainstorming session. Ideas?
#4 Monthly trip to Goodwill
. One word for you all…STUFF! Too much stuff. Sometimes all the stuff is just too overwhelming to deal with. I am breaking it down and making it simple, monthly visits to Goodwill to drop off stuff. I will use this printable to track/plan my trips.
No box can go unchecked! LOL, I think that should be my motto. The printable has a place to check the box along with a spot for a focus (you know…toys, clothes, kid's room, etc) and any other notes. I know that it is going to feel so good to declutter!
#5 Promote and grow the print shop
. You may have noticed we are on
Etsy
. Etsy is huge! I feel like a needle in a haystack. I love what we are creating and I want people to know it is there. I also love creating so I want to keep adding prints and growing. I know this will take time and some hard work, but if we can rock this I will feel so proud!
#6 Get four blog sponsors
. How is that for specific! I know that is a big deal. At the end of 2012 I will have been a blog for one and half years. With the amount of time and soul I put into this I would love to see it hit that point. This is one of those goals that I wont be heartbroken over if I don't hit it, because I know it is going to be tough. I also know that I can try my best and still not land a sponsor. There is only so much I can control. Hitting the gym, or lugging a bag to Goodwill I can 100% control.
#7 Weigh in weekly.
I don't think I can keep a food log for a year or commit to anything too crazy, but I desperately want to lose weight. If I have to step on the scale and track it every week I cannot bury my head in the sand. I will use this printable to track my weight.
The week along with the weight and the +/- is all I will be tracking. Simple!
#8 Lose this baby weight
(and then some). I know, I know. Everyone wants to lose weight. I do. I am hoping the 3-5 days of exercising along with the weekly weigh ins will push me in the right direction. I suppose if the scale isn't budging I might need to think about how to make this happen.
#9 Do a triathlon
. This sounds crazy now, since I am overweight and out of shape, but I have done them before. In fact I did a triathlon when I was 5 weeks pregnant with Eleanor. How I managed to go from that to this in one pregnancy is mind blowing. I love triathlons and am really looking forward to feeling fit and strong.
#10 Run a road race
. I ran cross country and track in high school and ran on and off in college. I kind of avoid races now. I want to get over my fear and run one again, even if it is embarrassingly slow.
#11 Makeover our bedroom
. Yup, it needs it. Like just about everyone in America we worked on the rest of the house and left our bedroom out! We use the bedroom furniture I grew up with and I don't see that changing. It is quality stuff, but not "us". Even still I think I can rock that room when we get around to it.
#12 Clean out & makeover the upstairs room
. Y'all remember when we did Quinn's room (post
here
)? Well his old room got stuck with everything that didn't make the cut and got torn apart in the process. Some people have a junk drawer, we have a junk room! It seriously needs to be cleaned out and functional again. This job is so overwhelming we have been ignoring it. Not anymore!
#13 Pay of our credit card!
This is big. Really big. We have never carried a credit card balance with interest. We financed some stuff with the whole no interest for the first 18 months. Well I am bound and determined to get that paid off before interest kicks in. I feel like a school girl with a giant report due. I hate having stuff loom over my head! Learned my lesson on this one.
#14 Go to bed by midnight
. I am already failing at this, but I at least have it on my radar. I never mean to stay up so late! Put the kids in bed and then finally…time to myself! Then I get caught up in T.V. or blog stuff or picking up or whatever it may be and BAM! It is the next day. We are really going to work on this one.
Hmm…so resolution by the numbers. That is..
156-260
workouts for minimum of
4,680
minutes of exercise.
4
sponsors and a bigger/better blog
12
(midnight) the time I need to be in bed by.
Use the link below to download the printables. You can print them all or just the ones that jive with your own goals. Hope these help make 2012 a rocking year for you all!
CLICK HERE TO SEE WHERE I PARTY AT
Want FREE printables and more. Join my newsletter!
Subscribe to get our latest content by email.