It is no secret that Quinn's room is one of, if not my favorite room in the house (Check out the reveal here). When I walk into that room it makes me happy. I think that is what a space is suppose to do. It feels finished. It is the only room I can sit in without taking a mental inventory of projects I want to do.
With that being said, we did make some adjustment to Quinn's room. It all started with the "dangerous room". Yup, that is what Quinn calls it. For those of you who don't know, the dangerous room is his old room. It is across the hall and is currently jam-packed with all the things that didn't make the cut for his room. His closet door we took off, his old bed, random toys, etc. We told him not to go in there, because it was dangerous and he now calls it the dangerous room. The door leaning against the wall really could fall on him so it technically is dangerous. In my attempts to tackle the dangerous room I came across two items that I decided should be in Quinn's room, then I stumbled on old pictures (Translation: spent the rest of the night looking at pictures and did not work on the "dangerous room". Oops!".
The first is an old school desk I snagged off of Craigslist for $30. I had no idea what I would do with it, but it was too cool to not get. It has been sitting in the dangerous room, well technically the dangerous room's doorway, for sometime. Quinn's reading corner had a bean bag, but after living with it for some time we realized he really doesn't use the beanbag. We decided to pull a switcheroo. Bean bag out, awesome old school desk in!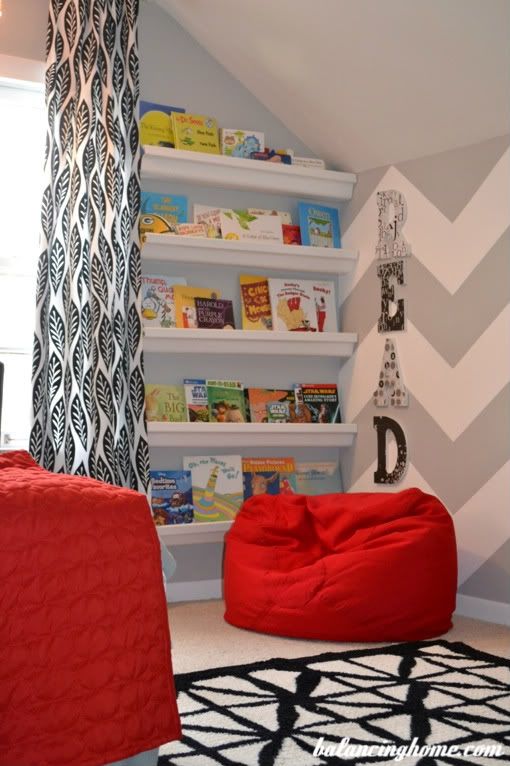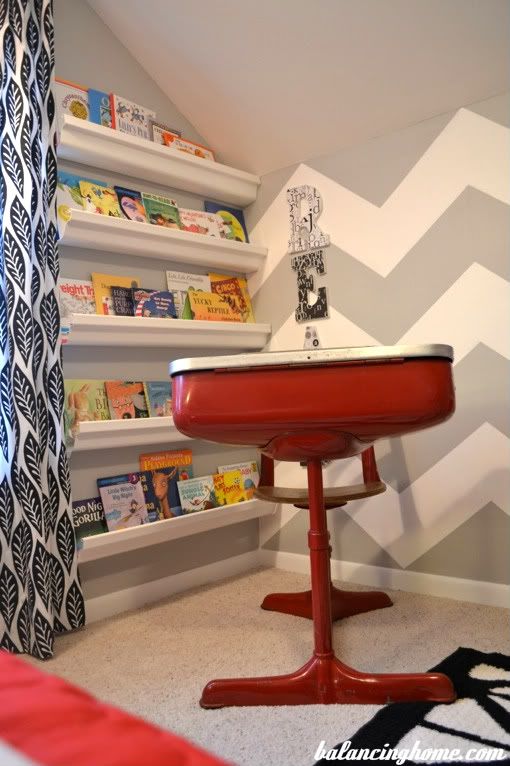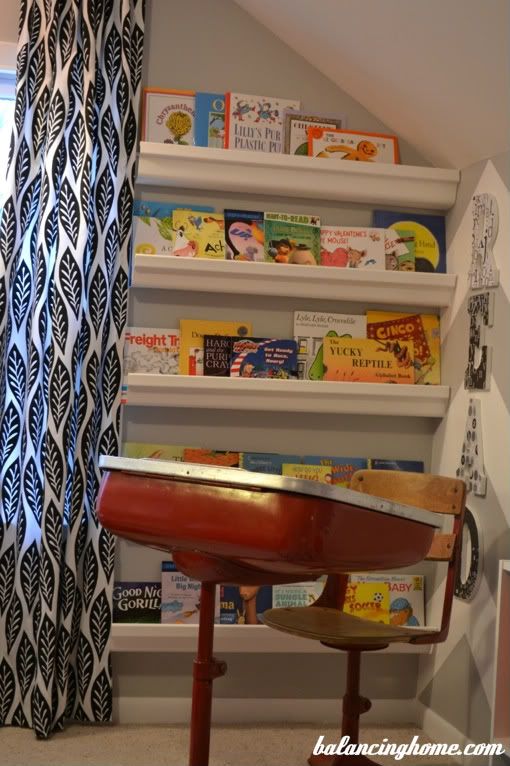 The other change was added storage. Christmas meant an influx of toys and we needed some toy control. We decided to move the play table out and put a shelf with storage in its place. This shelf and baskets were in the dangerous room and were added to wrangle all of Quinn's toys. The play table is now in limbo waiting for a home (Translation: Dangerous room still needs LOTS of work). This kid has a lot of stuff! How did that happen?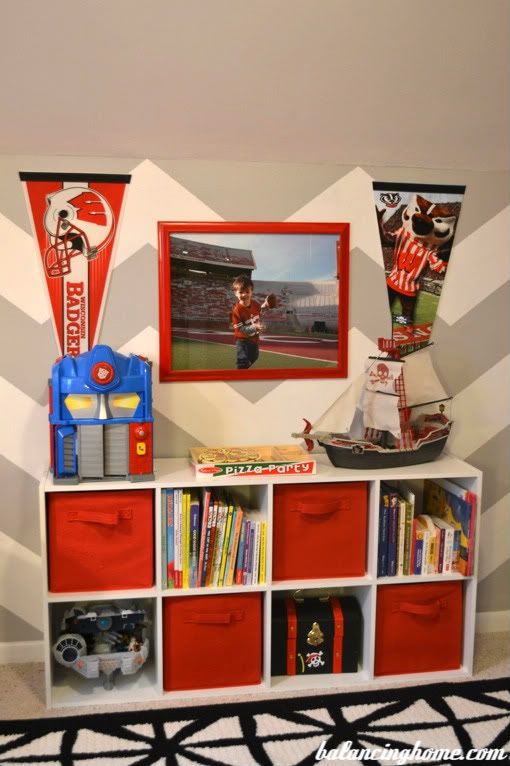 Quinn's room is inspiring me to work on the rest of the house. I need to be more bold! More pattern, more color, more POP! The drapes, the rug, the wall are all patterns. The pops of red just sing to me. I took risks, but I love how it turned out. I need to add more pattern and more pop! Since the new couch and new wall color I have been playing it too safe. I need the rest of my house to SING! What room makes you sing?
Side note: If you want more info on painting chevrons you can check here. If want to learn more about the gutter bookshelves you can check here. If you would like to see the whole darn reveal (video included) check here.
CLICK HERE TO SEE WHERE I PARTY AT!
Want FREE printables and more. Join my newsletter!
Subscribe to get our latest content by email.