So it was time things got a little change up around here. Of course it all started with the inspiration board, all by itself on the desk looking all lonely.
When we decide it is time for a gallery wall we gather anything and everything we have that can hang on a wall. We never know quite where it is going so we like to have all our options out.
We played with the general concepts on the living room floor, but in the end you just gotta start putting nails in the wall. They are only nails people!
Everything in our gallery wall is stuff we had around the house. We didn't go out an buy anything for this project. Lets take a look and then I can dish on the details.
Well you can imagine that this means some other walls are going to need a makeover. Most of the frames were previously resting on the photo ledge. The inspiration board was a DIY project you can find more about here. The clock was hanging out on another wall in the living room (wedding gift from my mom). The floating shelf is from our first apartment and was packed away in the basement. The vases on the shelf were a wedding gift. The fabric B was a gift from my mom from Anthropologie years and years ago. The green B was a housewarming gift from my sister-in-law. The empty ornate frame was a Goodwill find.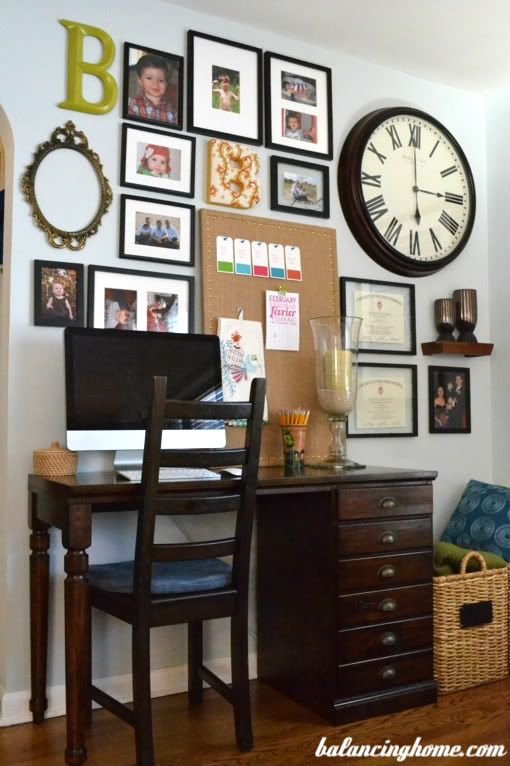 Well it definitely adds personality to the space. I love looking up in the midst of blogging and being greeted by photos of my family and all sorts of pretty things we love. Obviously we still need a desk chair! We are in the process of reworking the other walls so I will share as that starts to come together. So there you have it! Our little office corner right in the living room. Any of you take on a gallery wall recently?
CLICK HERE TO SEE WHERE I PARTY AT!
Want FREE printables and more. Join my newsletter!
Subscribe to get our latest content by email.