One of the biggest changes that comes with life with kids is the stuff. If you have kids, you probably realized that about five seconds into your baby shower. Umm…where is all this stuff going to go? I'm not gonna lie, I do a little happy dance when the bouncy chair can be retired to the basement.
Don't be fooled though. It just gets replaced by more stuff! You can edit and minimize, but that will only get you so far. Especially when we have Quinn who is three and wants to play with three year old toys like Rescue Bots and action figures and then we have Eleanor who is ten months and cannot play with any of that (choking hazard). So we need little boy toys and baby toys. Yikes!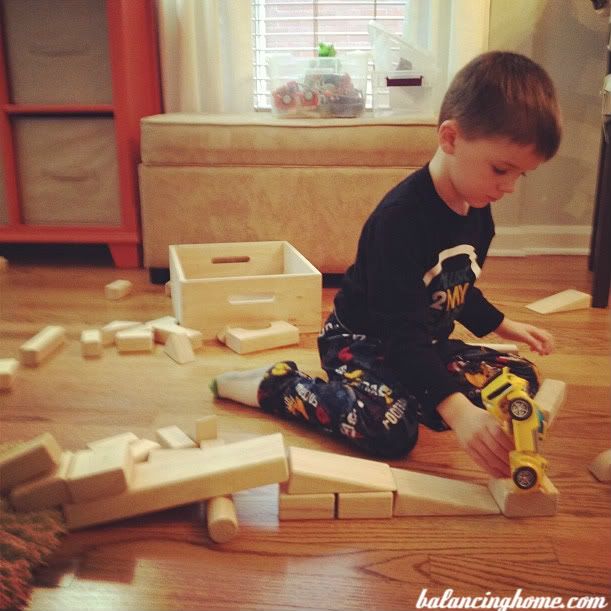 We tried storing toys in Quinn's room, but he just brings them down to the living room. Turns out he doesn't have any interest in playing by himself upstairs in his room. Who can blame him?
That makes our living room our play room, our office, or hang out, our everything! Over the years I have learned to manage their stuff (for the most part) while still maintaining my style.
Before snapping pictures of the living room the other day (you know, when I was showing off my new pillows <3) I ran around for a quick five minutes getting the living room photo ready. Hey, you never know how long those little ones are gonna sleep and the light was pretty good. After my little "prep" work I realized that I should spill the beans. If you have someone stopping by and five minutes to get your living room in order these are the kinds of things you need to know. Seriously!
A good shelf, baskets, pillows and a blanket and BAM! You are ready to go!
Step 1: Work a Shelf:
Get yourself a workhorse of a shelf. Ikea, Target, all sorts of places sell these kinds of shelves at an affordable price. Fill it with baskets/bins! Baskets/bins are great for kid storage. Kids can get them out themselves and clean up by themselves. If company is coming throwing stuff in baskets takes no time at all. Our baskets are organized: Play food, instruments, Little People, etc.
I think if I dumped out all those baskets and you saw how many toys were stored in that shelf you would be amazed! Each bin is 12x12x12 and there are 10 bins. Umm, yeah, that is 10 cubic feet of storage. Can I get an Amen!
2. Rock Storage Ottomans:
Storage ottomans are awesome. You can get them at every price point, every size and every material/color. Target has nice cube size ones for pretty cheap. Storage ottomans rock because hidden storage always rocks! Out of sight, out of mind…right? Our ottomans are great for handling some of the more bulky toys. The kids can get at them themselves (our stays open and slow closes for safety) and the tops of them make for a great play place, extra seating or a makeshift coffee/end table. We have two storage ottomans in our living room.
3. Invest in a few large baskets.
We got two large baskets when they were on sale at Target. I need want more. Our baskets are jam packed with toys for Eleanor. They are all the baby friendly toys that she can play with. She can pull herself up on the baskets and get out what she wants. It is also easy for Quinn or me to grab stuff for her to play with too. More importantly, if company is coming it takes no time to throw it all back in the basket.
4. Discover the Magic of Pillows and a throw:
Pillows and blankets can fix a multitude of sins. Want to look like a classy joint, no problem. Fold up a blanket and put it on top of the basket or stack two pillows on a basket. Instantly looks like your house was staged by Better Homes and Gardens. Nobody needs to know there is a pile of toys below. Sometimes you just want to unwind and relax with a glass of wine at the end of the night and feel like you don't live in a daycare. I know I do. Throw a blanket and pillows on your basket and unwind in your classy joint.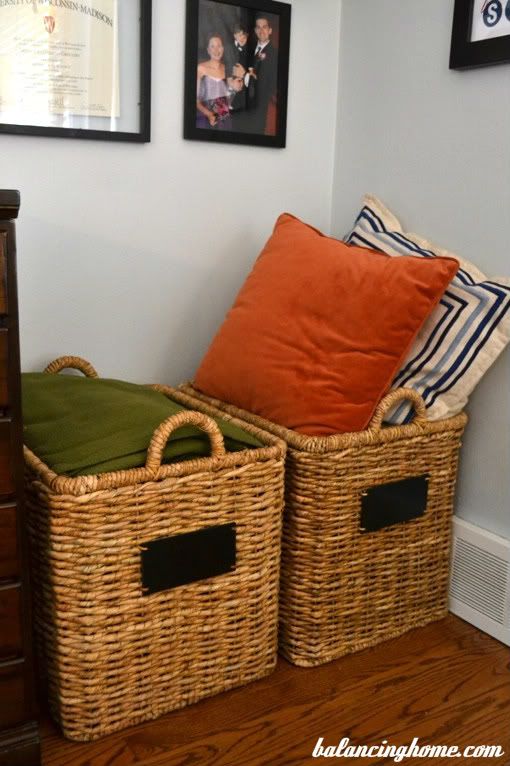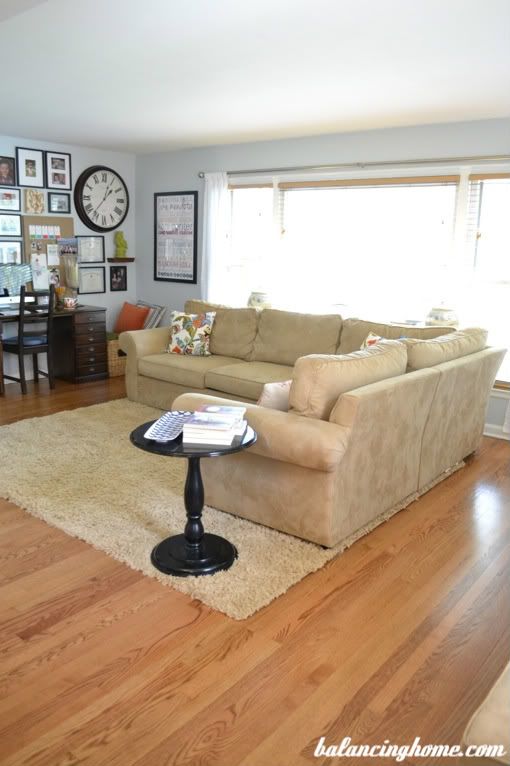 Not to mention a few great pillows can instantly make a room feel pulled together. They are child safe too!
5. Everything looks better contained. EVERYTHING!
A basket for magazines, a bowl to contain remotes, a tray for misc. things (like the necklace you take off or the stuff your husband empties out of his pockets) helps keep the place looking tidy and pulled together. No, it isn't exactly toy storage, per say, but when living with kids you gotta do what ever you can to keep it together (or at least maintain the appearance of keeping it together).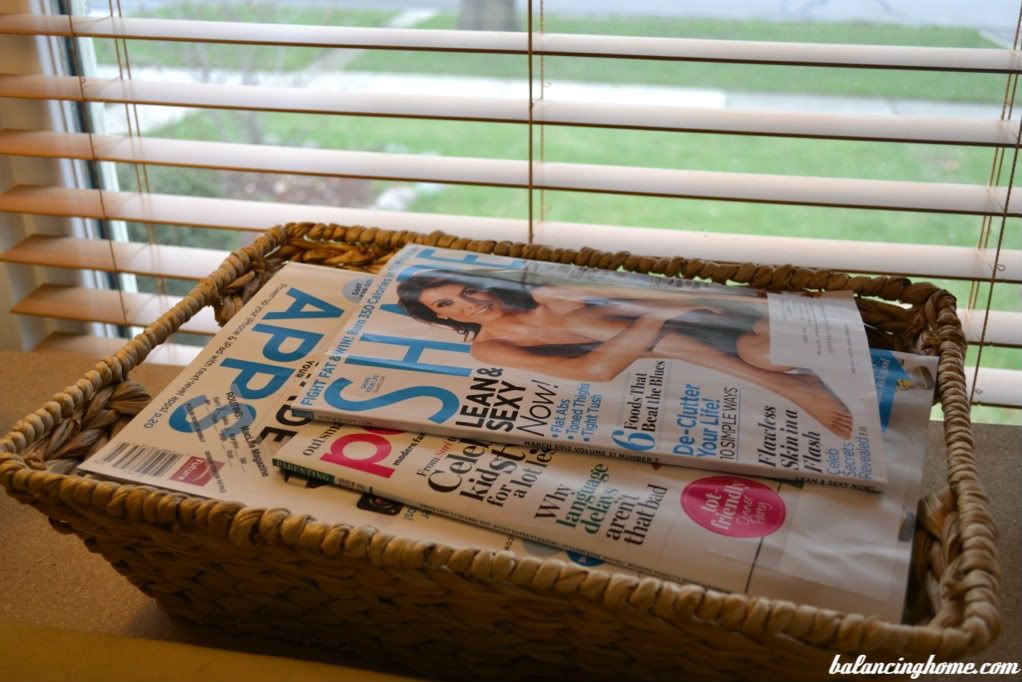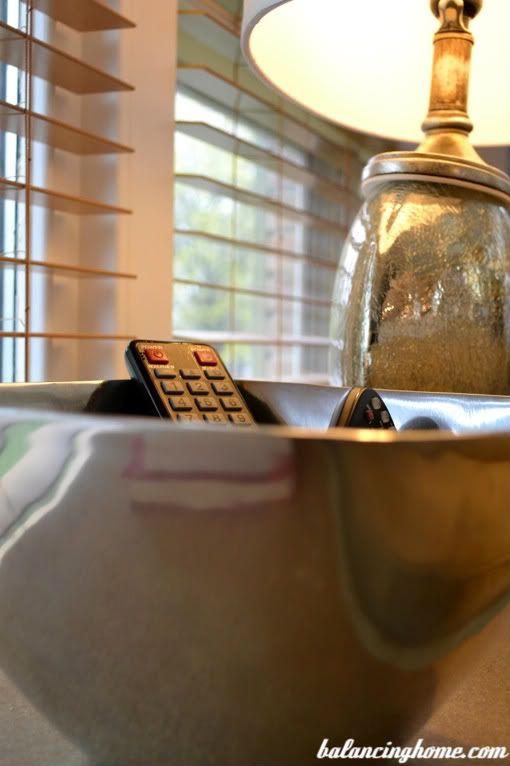 So those are my five tricks for keeping it together and maintaining some style in your casa. It is what we do around here. When the house is picked up and the kids are in bed and the husband and I are snuggled on the couch catching up on T.V. (thank god for DVR) it feels so good to have a pulled together home. I don't want to give up our entire night to get to that point and this is what works for us and lets us relax on the couch that much sooner.
Here is a weird and slightly embarrassing fact. We have 24 containers/bins/trays in our living room alone.
Don't forget to stop by and share your tips for balancing home.
CLICK HERE TO SEE WHERE I PARTY AT!
Want FREE printables and more. Join my newsletter!
Subscribe to get our latest content by email.