Door knobs people, door knobs! Back in the fall we updated a Goodwill headboard (you can read more about that here) and while we were in spray painting mode we decided to update some hardware in our bedroom as well. I don't know how months and months have gone by and I haven't shared this with you all. The good news is I can tell you that the hardware is holding up really well.
Here is shot of the closet door knob before.
Yikes! Yeah, apparently at some point we got paint on our closet door handle. This truly was the sad state of things until we blasted the knob with some Rust-oleum Carbon Mist.
The set up looked something like this. We primed, then painted them. Obviously make sure your hardware is clean. Some people might do a light sanding to rough it up, we didn't.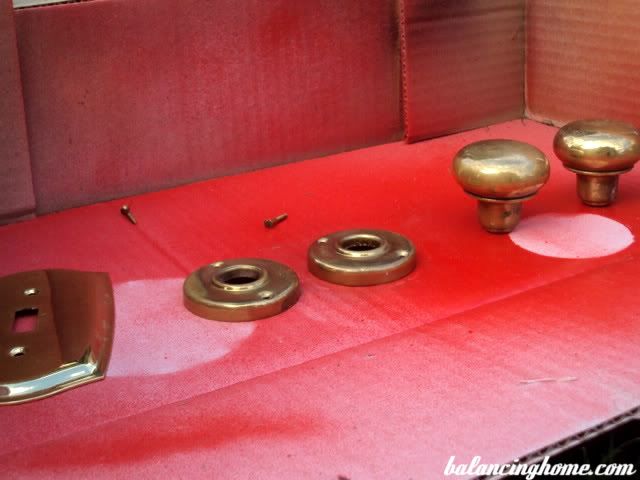 Door knobs and light switch covers oh my! Excuse the crummy pictures. The befores were on the old camera and then nows were in the dark. What can I tell ya? I just don't have my act together.
I am kind of obsessed with this stuff now. I love what it has done to update the hardware and for so cheap! Anyone else super excited for the return of spray paint season! WooHoo!
Please don't forget to stop by and share your tips for balancing home.
CLICK HERE TO SEE WHERE I PARTY AT!
Want FREE printables and more. Join my newsletter!
Subscribe to get our latest content by email.