We have been working on turning our living room into an expression of us. We started with the neutralization process. We tore up the carpeting and had our hardwood floors refinished. Instantly fresh! Then we finally splurged on a new couch in a lovely neutral (Pottery Barn- Pearce Sectional). Finally, we put up a coat of fresh paint (Glass Slipper by Benjamin Moore). Now that our space was neutralized it was time to start adding some personality.
We are young. We are fun. We have little ones. It was time for that to show through in our space. According to the quiz on Better Homes and Gardens, my style is polished casual.
To inject more of 'us' we updated an Ikea shelf with Mexican Chile by Behr (here), then we infused some personality with a cork board makeover (here), a gallery wall (here), updated two goodwill finds (here and here), and created some art (here). I am loving all the changes.
Our space is really starting to feel calming, yet energetic. It is fun, and interesting. It is a space full of our projects, finds, and family photos. I feel like someone could spend time in our living room and get a good read on the kind of family we are. We like home. We like fun. We are family centered (Could there be any more pictures of my kids? Probably!). Be it photos, our diplomas, subway art full of our favorite and most important places, a splash of color or a DIY project we tackled together this is a room that screams us!
I love how the room is coming together. I was still kind of looking for that something. You know, that something that makes it all come together. Then I found it.
<cough>a…pillow<cough, cough>
Umm…Yes, kind of embarrassing. I feel like I should belong to pillows anonymous or something. Hi, I am Megan and I am a pillowaholic. The husband banned me from buying pillows, but then then there were these.
Rules were meant to be broken, right? And they are even made in the U.S.A.
I love how they are making the room come together. I will let you judge for yourself.
Do you see how those colors tie in so nicely with our prints. LOVE! The shades of green, blue, orange, reds. And look at it with our shelf!
Check out all the gorgeous fabric full of color.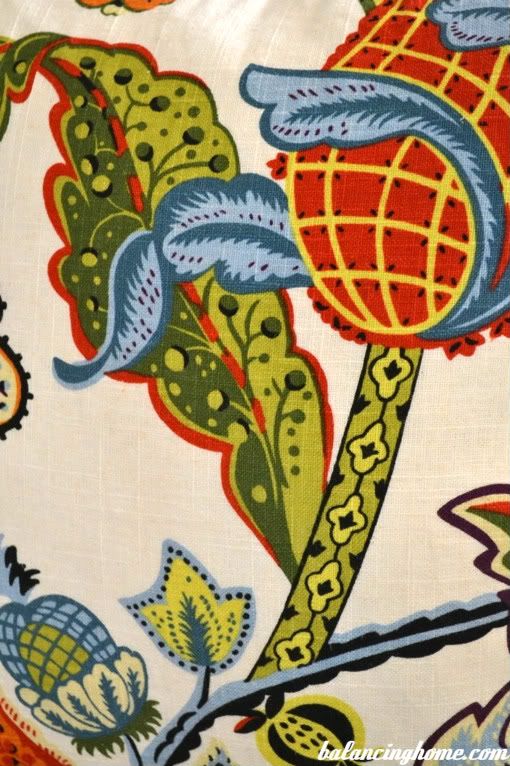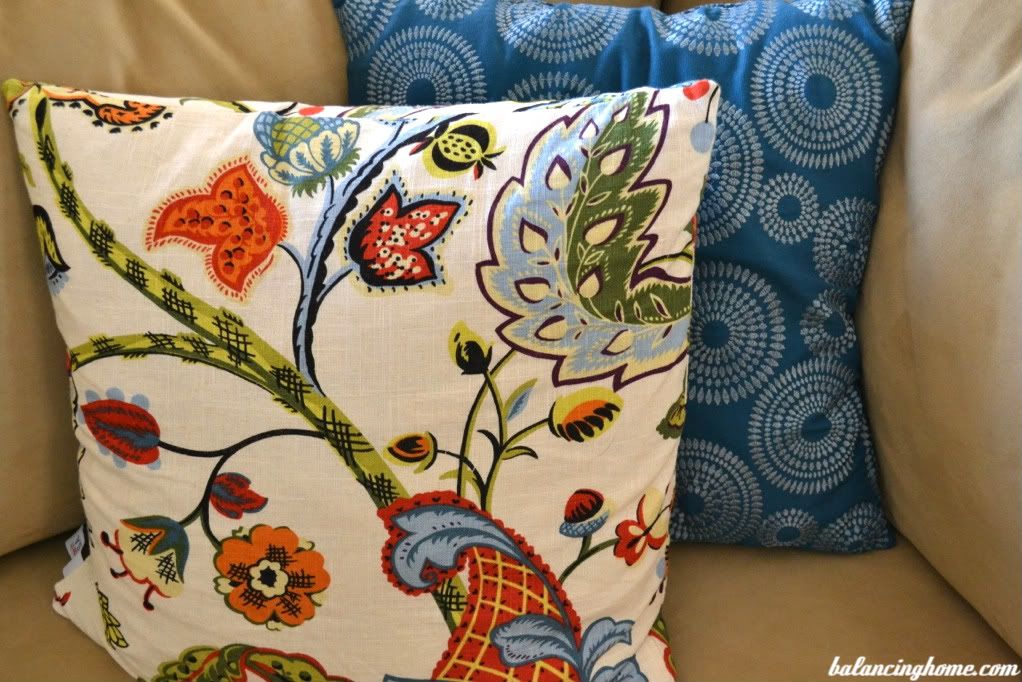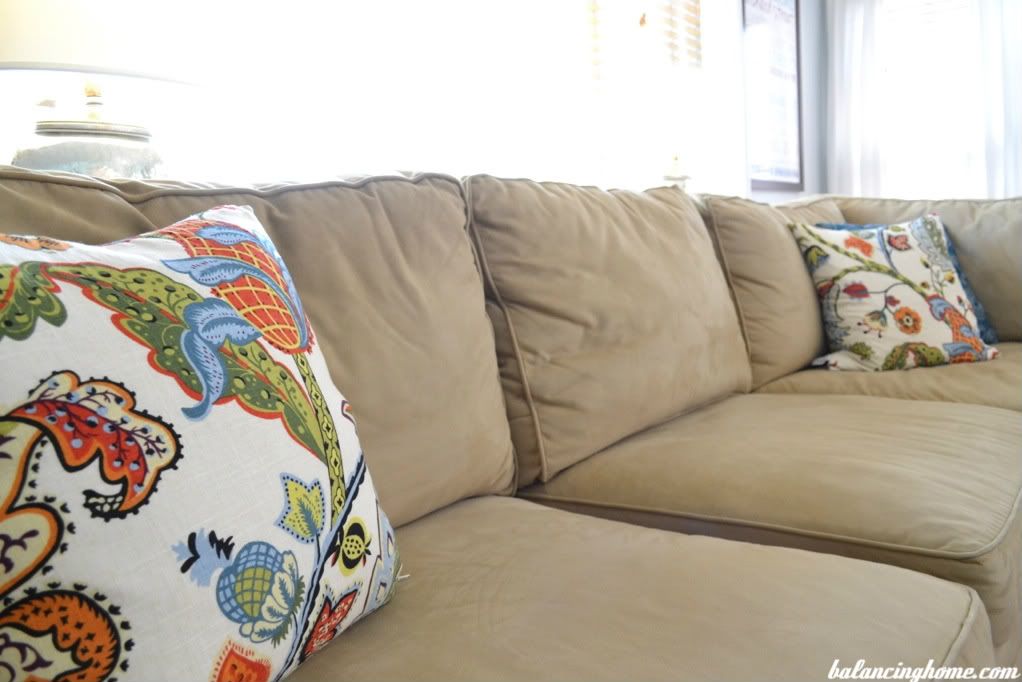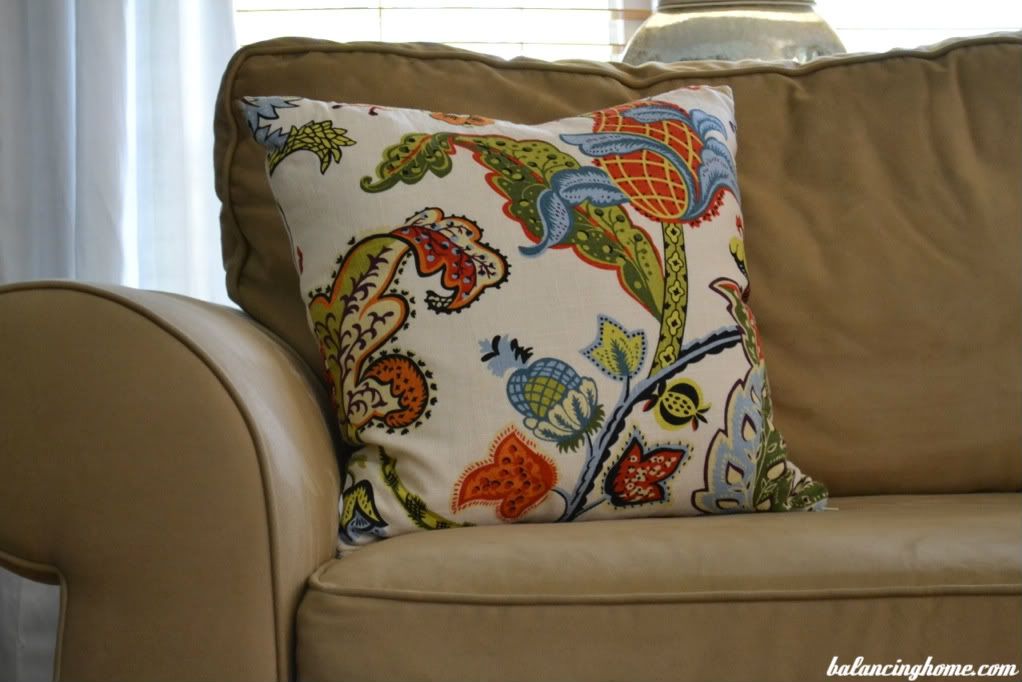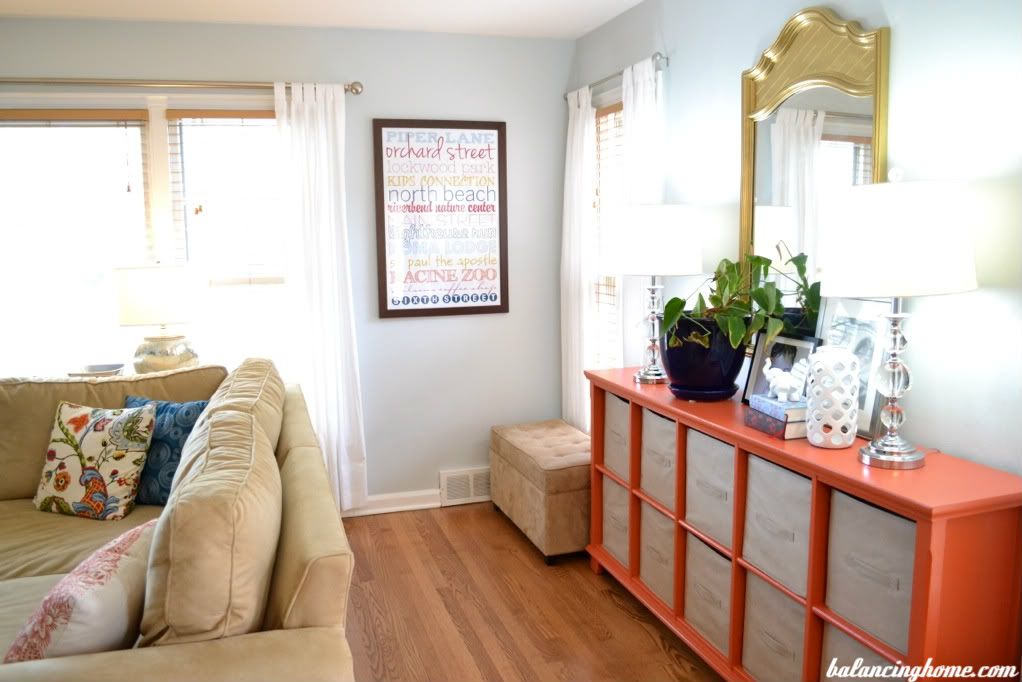 Check out the way the pillow just ties right in with everything. It is like I knew the pillow existed all along. We were destined to find each other at TJ Maxx.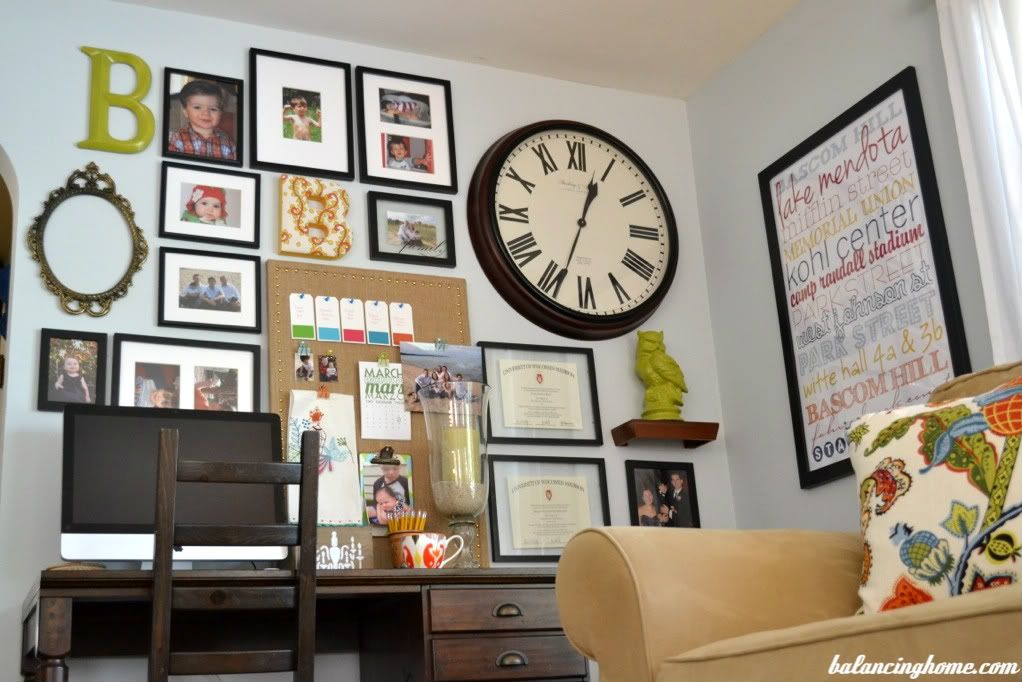 Polished casual? I think so. So what is the one thing that bring it all together for you? Is it a pillow, a piece of art, a rug?
You can find out more about the gallery wall here, the bulletin board here and here, the owl makeover here, the custom prints here, the Goodwill mirror makeover here and the Ikea shelf update here.
Don't forget to stop by and share your tips on balancing home.
CLICK HERE TO SEE WHERE I PARTY AT!
✕
Want FREE printables and more. Join my newsletter!
Subscribe to get our latest content by email.