This should just about wrap up the posts on the bridal shower. I was in charge of centerpieces and ran into a very inspiring photo on Martha Stewart's website.
I thought these were beautiful and simple. I did not want to permanently attach my vases so I tried Fixodent (my mom's genius idea). It worked for a quick minute but the seal broke and my inner vase floated. I think if I had given it some ample dry time and not a whole thirty seconds it might have worked. The inner section is the part that is filled with water and then food color is added to give the color. Since the party was about to start I didn't have time to fuss and we had to work with what we had. Once again, wishing I had grabbed better pictures.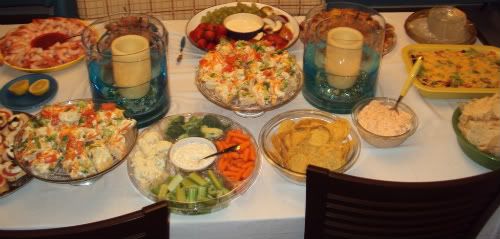 This is one of those projects that was so much prettier in my head. You win some, you lose some. I think I might give the old Fixodent a try again (allowing ample dry time of course). Any of you find some simple, cheap and effective centerpieces?
CLICK HERE TO SEE WHERE I PARTY AT!
Want FREE printables and more. Join my newsletter!
Subscribe to get our latest content by email.