This is our first Christmas as a family of four. I wanted to celebrate this in a memorable way so Saturday night we had a little family craft time. Since this is no spend November (Yes, we are still doing that and incredibly we haven't spent a dime beyond groceries, gas, and bills) we had to use what we had around. In my head I had a vision of a Christmas tree made from our hand prints. All we had was flimsy paper, but we did have a bunch of file folders from my classroom. So we got together as a family and started getting hand prints on old file folders.
The highlight…Eleanor.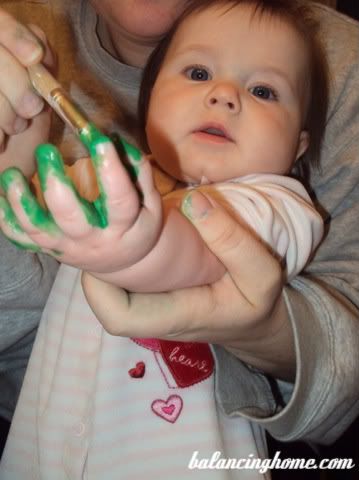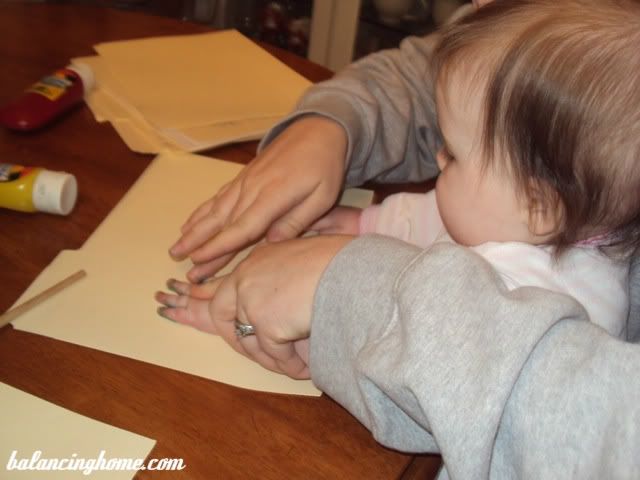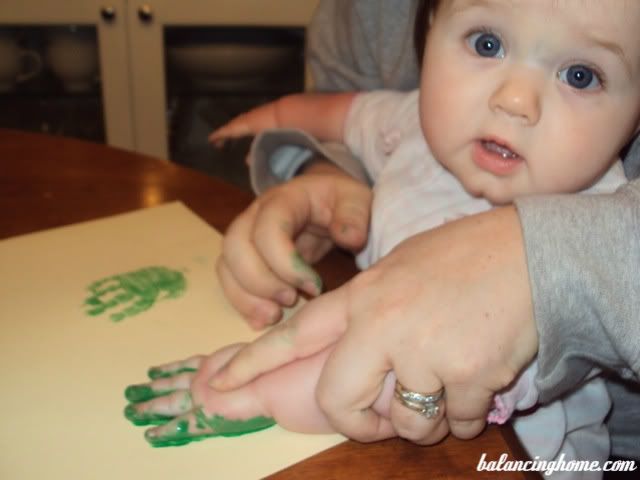 She laughed as we painted her hands and her little prints were just so stinking cute! We couldn't get her thumbs out. She kept balling her hands up so I am pretty happy with the print we were able to get. Upon getting her print, I realized my idea to put all our prints on one paper would have never worked. There is no way we would have gotten good prints of us all in the proper location on the first try. Turns out my lack of materials was a bonus. After getting everyone's prints (Yes, I even tried for a kitty paw print to be the star. Failed!) I cut them out and layed everything out on the kitchen counter. After laying them out I realize I needed a tree trunk so we did a quick print of Eleanor's foot for that.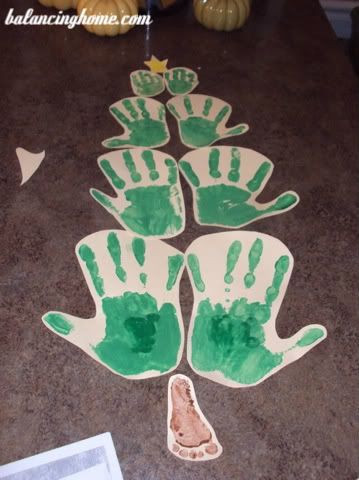 Next was figuring out how to put it all together. I ended up gluing it onto some of Quinn's easel paper and trimming it. Then I Modge Podged like crazy and glued a ribbon on it.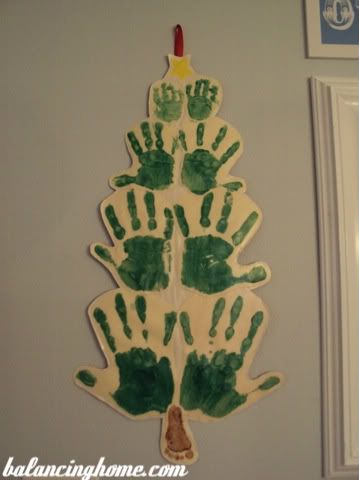 The tree is hanging where the plates were on the gallery wall. We are slowly changing up the gallery wall for Christmas. I will post a picture when the full change has been made. From top to bottom it goes: Eleanor hand prints, Quinn hand prints, Mommy hand prints, Daddy hand prints, Eleanor footprint. So there you have it! Our family Christmas tree to mark our first Christmas as a family of four. I know some Christmas I will pull this out and ball because these tiny little people that rule my world wont be so tiny (although I am sure they will still be ruling my world). What kind of ways are you celebrating the holidays as a family?
CLICK HERE TO SEE WHERE I PARTY AT!
Want FREE printables and more. Join my newsletter!
Subscribe to get our latest content by email.