This little craft I did with Quinn right before he turned one. This is a simple Halloween craft that you can do with your kids. I love it because aside from being cute holiday decor it marks their growth. Originally I did it and planned to use it when I scrapbooked his Halloween pictures, but you can hang them for holiday decor as well. I used Crayola washable poster and craft paint in white.
Make sure it is washable, unless you want your child walking around with a white foot for a couple weeks. It is as simple as getting a print of your child's foot, waiting for the paint to dry and then drawing in the eyes and mouth using a marker. I used a good old fashioned black Sharpie. Scrapbook paper would probably hold up better and fade less. The black is construction paper and the orange is scrapbook paper because that is what I had.
Quinn stood on the counter top and held onto the cabinet while I painted his foot. I set the paper on the counter and he stepped on it. He was super good which made this super easy. I remember it being a little more difficult last time. I had to use a couple sheets of paper. In fact, you might want to have a few sheets of paper on hand in case you need them. It is a good idea to have everything on hand so you don't have to leave a kid with a painted foot unsupervised. That could get ugly. When we were finished he sat on the counter top and put his feet in the sink so we could wash them. The paint came right off.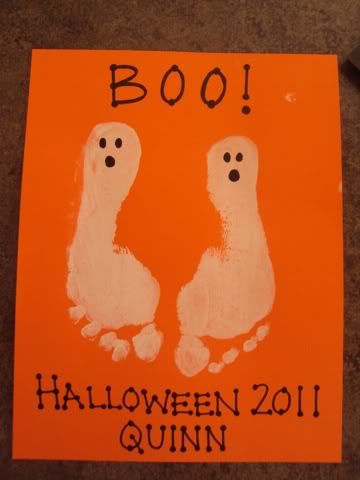 When I did this for the Halloween of 2009 I cut out his little ghost foot.
Look how much the little guy has grown! Gone are the baby flat feet. My little guy has arches!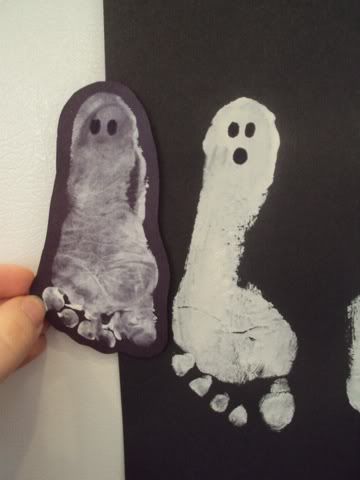 There you have it, a simple way to mark the holiday and your child's growth. When Eleanor wakes up I plan on getting her print too.
CLICK HERE TO SEE WHERE I PARTY AT!
✕
Want FREE printables and more. Join my newsletter!
Subscribe to get our latest content by email.