For those of you who follow me (if you don't, go ahead and start) you know that I picked up this headboard at Goodwill (as mentioned here) for $14.99 (well, less actually, due to discounts).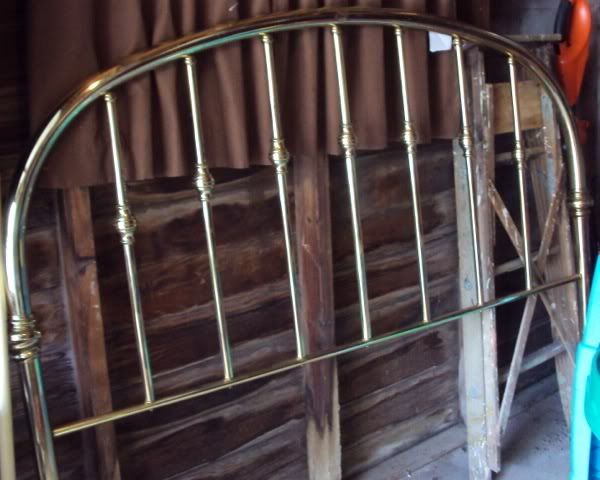 There she is hanging out in my garage waiting for her makeover. By makeover, I mean a good spray down with my new best friend Carbon Mist. This metallic spray paint by Rustoleum is magic in a can. Literally. It seriously looks like we bought a metal headboard. I am officially obsessed. I will share more of Rustoleum's Carbon Mist magic later. For those of you who are familiar with the metallic Oil Rubbed Bronze this is the same thing, but instead of looking "bronzy" it looks more "irony". You dig?
We propped the headboard on some old paint cans (we have a lot of those) and got to spraying. Even strokes, keep that hand moving. The hubs actually did the painting. Switching off between applying coats of spray paint and nursing just didn't seem like a good idea.
The finished product looks like this.
So the new headboard made it obvious that we needed to paint the bedroom. Honestly, we picked up a comforter a couple of weeks ago and now there is the new headboard. We have wanted to repaint that room for some time so this is the kick in the butt we needed. Since we will be painting we didn't put the headboard in our room yet. As soon as we do I will be sure to include pics. I would like to point out that this headboard costs less than $14.99. We have to add a couple cans of spray paint, so we are pushing around $35.00. Look at what this similar look is going for.
This Crate & Barrel headboard in a queen $499.00 and it is very reminiscent of my $35.00 headboard. Pottery Barn also has a few metal beds priced quite a bit higher.
With a little creativity, patience and elbow grease designer style is almost always possible on limited budget. Cannot wait to show you what it looks like in our room. What spray paint are you in love with?
CLICK HERE TO SEE WHERE I PARTY AT!
Want FREE printables and more. Join my newsletter!
Subscribe to get our latest content by email.