This post brought to you by Bolthouse Farms. All opinions are 100% mine.
I already buy Bolthouse carrots and their dressings. I'm a big fan. So when a campaign came along combining two things I am already a big fan of: Instagram and Bolthouse– I jumped on board.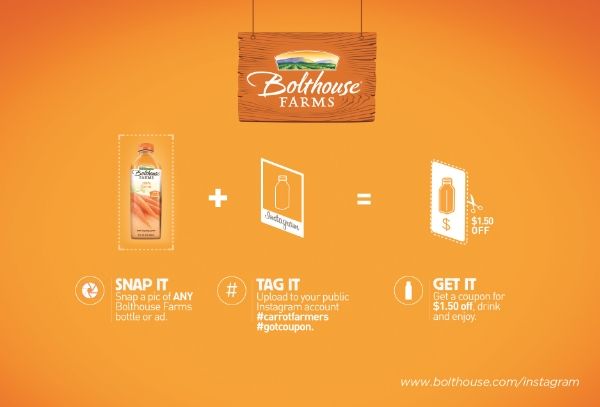 With 30+ flavors of juices, smoothies, protein shakes and cafe drinks–there is something for everyone! Now through December 31st save $1.50 with the Bolthouse Instagram Promotion. It is so simple! Snap a pick of a Bolthouse Farms bottle or ad + Upload it to your public Instagram account + tag it with #CarrotFarmers and #GotCoupon = $1.50 coupon from @BolthouseFarms in your comments field.
Everything about this product makes me ridiculously happy. I loved the way all of the flavors I tried tasted. With all of the vitamins and servings of fruits and vegetables hiding in this delicious drink, it is the perfect way to sneak in must-haves for the little ones and me.
These two absolutely loved their Bolthouse Farms drinks. Quinn woke up this morning asking for medicine and was definitely starting to feel under the weather, so he got the C-Boost. It has 1200% of your daily vitamin C–so I think we got that covered.
In that bottle, there was also 3 3/4 servings of fruit, and the juice of 2 1/4 pears, 1 mango and 19 acerola cherries and 90% of the daily value of Zinc. Quinn also declared this his "favorite drink". Kid could have straight up made a commercial. Lately Eleanor has been obsessed with bananas so I thought she would enjoy the strawberry banana juice. And she did.
That bad boy also has 3 3/4 servings of fruit per a bottle along with plenty of vitamins.
I will save you a picture of me drinking mine. I too was in my pajamas, but somehow it just isn't as cute as these two.
This one was so yummy! Plus, as a nursing mom I need the extra protein. We are trying so hard to make good choices around here. We gave up soda, we have been limiting eating out and we have been trying to squeeze in our fruits and veggies wherever we can. You know the whole–you are what you eat thing? It is true.
I know how tough it is to make good choices every day. My new motto is, "make today ridiculously amazing". I made it a printable too–in case you need a reminder. Don't we all need a reminder sometimes?
Sharing this project at: Link Party Palooza
Want FREE printables and more. Join my newsletter!
Subscribe to get our latest content by email.