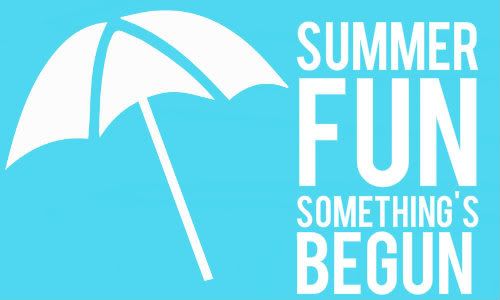 Can you believe it is almost July?! Summer is flying by. Nothing beats being a kid in the summer, nothing. My best memories are from summer days. Anyone else?
I think we are going to kick off July with a Summer MUST-DO-LIST. I don't want summer to get away from us and wish we would have done this and that. Nothing elaborate. I'm a broke momma with one small car, but that doesn't mean we cannot make the most of each day.
We happen to live minutes away from one of the best beaches (Parents magazine) and one of the top 50 beaches in the country! How is that for free entertainment. We also have a free public fountain (we did that today), a zoo we have a pass to, a backyard full of activities and parks within walking distance.
I am really going put on my thinking cap and make a plan. Otherwise by the time we have eaten, dressed, sunscreened, packed, made a plan and made it out the door half the day is gone…literally (Can I get an Amen!?). So I have to dig deep to find my inner planner/prepper-self and make sure we take full advantage of summer. Any fun suggestions?
Well in case you needed a dose of cuteness, a reminder of summer fun as a kid, or inspiration to get out and enjoy summer I have included some pics and a very short video (her first time in the fountain). You are already here so you might as well just scroll down and enjoy and then leave a comment telling me how cute my kids are (hard to pick up on my sarcasm here) what kind of summer fun you are up to.
Warning! The following video may bring on a bout of baby fever.
The house is kind of a mess and we have laundry to the moon and back, funny, because that is how much I love me kids too….so it is A LOT. I have no idea what is for dinner, but hey we made memories today! Daddy got to come down on his lunch and see the kiddos and so did Grandma. Nothing like summer to put a pep in your step.
Want FREE printables and more. Join my newsletter!
Subscribe to get our latest content by email.