Nothing says thrifty like repurposed furniture. We got an entire bedroom set at a rummage sale (bunk beds, desk, dresser, dresser with a hutch and bookshelf) that wasn't being used. They were, but then Eleanor was born and Quinn moved upstairs. Upstairs has built in dressers, so no need for those. We were trying to come up with a headboard idea for Quinn's room. We even thought about building one to give it the built in look. I had no idea wood could cost so much! Then my husband was rummaging in the basement and said, "What if we use the hutch from the dresser?". At first I was sceptical, but we hauled it upstairs and tried it out and it was a winner. The hutch started like this.
The vision is to slide the bed in the opening on the bottom and voila, instant headboard! Obviously the wood wasn't jiving with our vision so it needed a bit of a makeover. Being the thrifty little DIY'ers that we are we used the quart of paint that we had used for the
dresser makeover
. When all was said and done the
hutch
headboard looked a like this:
Are you starting to see it all come together? Can you picture it? Sorry to report that you will have to wait until the big reveal to see the headboard do it's thang. We are getting so close to being done. Lots of finishing touches and then it is time to load the room and show the little man his new digs. I can't wait! I hope it is a place he loves to hang out in.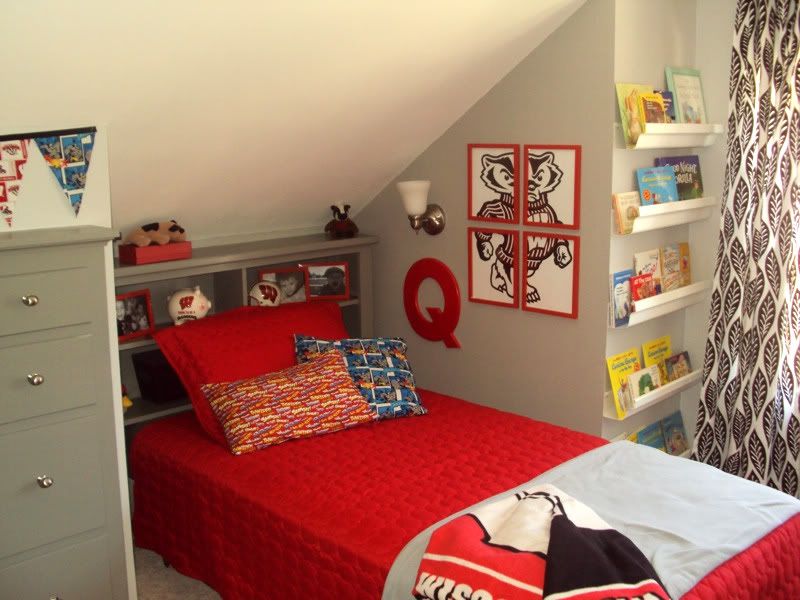 Click here to see the final reveal.
Want FREE printables and more. Join my newsletter!
Subscribe to get our latest content by email.