I seem to hold onto everything. It is a blessing and it is a curse. Lets just say my basement holds enough stuff to furnish and decorate a whole other house. Tell me I'm not the only one! One of the things that has been hanging out in the basement for some time is a bulletin board. The bulletin board hung in my room as a teen displaying all the important things of my teen life. Pictures, dance tickets and various memorabilia. I believe the bulletin board was a birthday gift from the little sis.
Well our desk is sitting on a naked wall! Bare naked! I have been hemming and hawing with what to do with this wall. I still don't have it all together, but I know this bulletin board is going to be displayed someway on the wall. In fact, since I am pushing thirty I am now going to call it my inspiration board, because I am just sophisticated like that. So here is the low down on how to get your very own inspiration board.
You will need a bulletin board. If you received one as a birthday gift when you were a teen and saved it for the last 15 years you are in luck! If not, you might have to buy one. I picked up burlap (3.99/yd) and upholstery tacks from Joann's. Upholstery tacks run under $2 a box and I used three boxes (with some left over). Obviously you don't have to use burlap, but since this is my sophisticated inspiration board I wanted something with texture but no color or pattern. Simple board to show off my fancy-schmancy inspiration.
Well it isn't a complicated process and you probably could all figure it out. There are lots of ways one could probably rock this project, but this is how I did it. I dropped the bulletin board on the floor (right in the middle of the mess) and threw the fabric down over it. Some people measure and plan, I jump in and hope for the best. This could totally backfire, but in this case it worked like a charm! So I plopped my first upholstery tack right in the corner. At this point I realized I needed a spacer so I grabbed the tape measure and used its width as my spacer.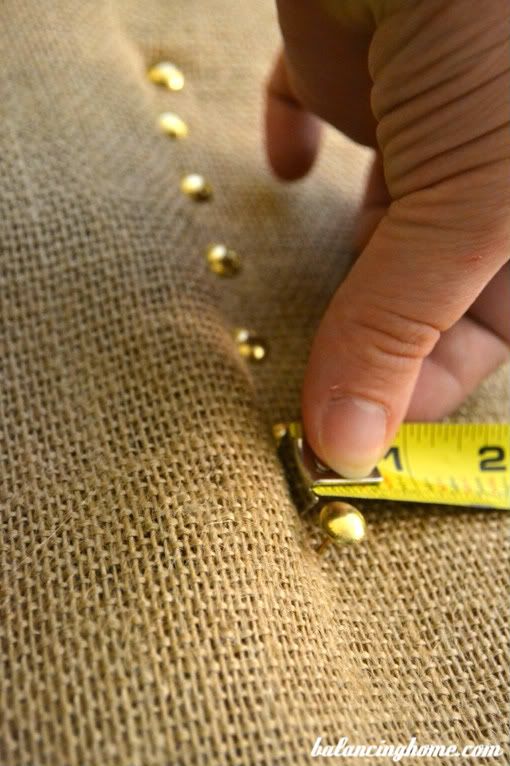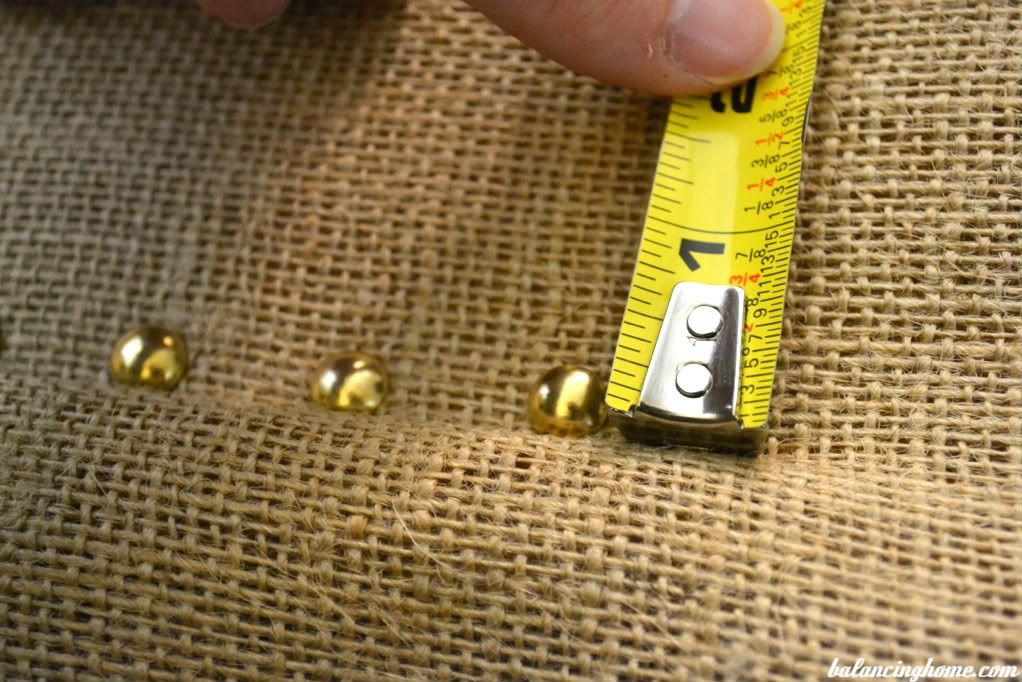 Now would be a good time to tell you that I am pushing the upholstery tacks right into the cork, butting them up to the wood frame.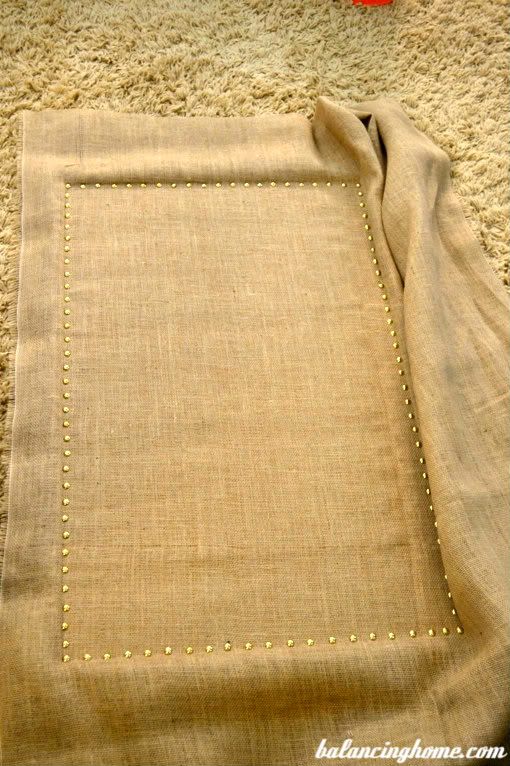 After all the upholstery tacks were in I trimmed the excess and hot glued the burlap in the back. I didn't use the staple gun, because I thought it might just shred the burlap over time. Now my inspiration board is prepped and ready to inspire. As soon as she is hanging and full of inspiration I will post some pics.
Hmm…did I mention that a similar board retails at Ballard Designs for around $89.00! I say around, because they don't have my exact size. Check out Ballard's version.
With a little burlap and upholstery tacks you can knock off your own Ballard Burlap Message Board.
I'm kind of in love with how it turned out. I cannot wait to find the perfect spot and get her all dressed up with inspiration! Don't you love when you can get a high end look for a fraction of the price?
CLICK HERE TO SEE WHERE I PARTY AT
Want FREE printables and more. Join my newsletter!
Subscribe to get our latest content by email.