Yet another weekend gone. Man they fly by fast! I hope you all enjoyed yours. Quinn got a special treat this Friday. He got to see Puss in Boots with his Gigi. Check out his version of Puss in Boots.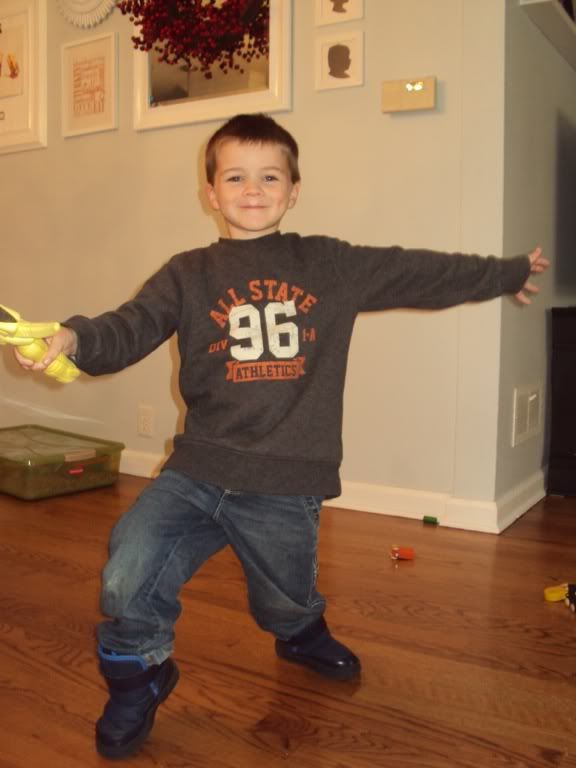 Yup, that's my Quinn. Rocking his boots and sword. He is all about Puss and Boots.
We kicked off our weekend as a family with free ice cream from Culvers (No Spend November). Little E hit the six month mark and we celebrated with a little photo shoot on Saturday. No spend November means that I was the photographer and the photo shoot took place in our dining room with a sheet as a backdrop (held up by painters tape) and the old point and shoot camera doing the big job. A lot of the photos didn't turn out the way I wanted and it really made me wish for my digital SLR camera. There were a few that melted my heart and captured the essence that is my sweet baby girl.
Okay, so it is more than a few! They all seemed so essential. She sure loved her tutu. She was sad to see it go. She loved playing with it and eating it. Inspired to do your own impromptu photo shoot? Do I have any tips? Sure! A cute subject (check). A backdrop. Doesn't have to be anything fancy. We taped up a sheet with painters tape. Set up your photo shoot opposite a big window so you can capitalize on the light. Don't use a flash! Play with your settings. Have a steady hand (or a tripod). Refrain from zooming in without a flash, they get grainy (at least with our point and shoot camera). Keep shooting! If you take enough pictures you are bound to have some keepers. Have a partner in crime. Someone has to keep the subject engaged and in this case safe. Play around with cropping and touching photos up in a photo editing software. If the colors are off adding an antique finish or turning the photo black and white can correct a multitude of sins.
Aside from a photo shoot the little girl got to give some baby food a try. She wasn't a fan. Surprising (Notice those thighs?). I thought she would be all about it. Quinn downed his baby food, lurched at the spoon and cried when we didn't feed him fast enough. Funny how each kid is so different. Even at six months.
We also hit up the holiday parade this weekend, complete with Santa and reindeer. Makes the holiday season feel official. I know that we haven't hit Thanksgiving yet, but most of us are thinking about Christmas (I know Quinn is!). We even introduced our Elf on the Shelf, Bruce (named by Quinn), to keep an eye on Quinn for Santa. All this holiday spirit in the air means we will have a holiday printable going up this week (printable and banner). If you haven't already, be sure to check out our printable page (here). Don't forget to enter the My Memories Suite Scrapbooking Digital Scrapbook Software Giveaway (here, tomorrow is the last day!). How many of you are ready to get your holiday on?