Y'all remember last week when I shared a quick tutorial on making magnets (here). The first time around I used some scrapbook paper I had handy. Today I am going to share two different ideas using the same process.
The Hunger Games has been all the rage. I read the whole series before I even knew it was becoming a movie and fell in love. The series seems to be catching on everywhere and has even become required reading in some schools.
Not only did I whip up these magnets, but I included a printable so you can too! If you are a teacher looking for a fun activity, or a parent of a teen who loved the series, or an adult who adored it, this project is easy-peasy using the printable available at the bottom of this post and the tutorial (here). I think this would be such a fun thing to do in a classroom after reading the book, or at a sleepover after seeing the movie.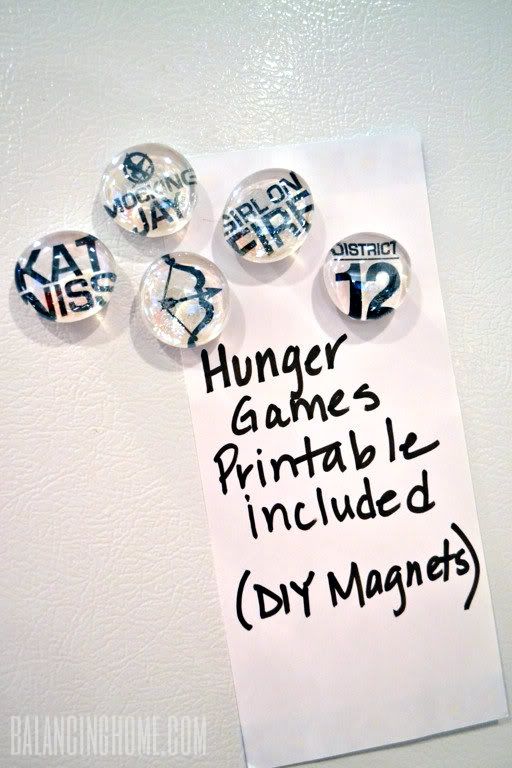 Since I was in some sort of magnet making frenzy, I decided to use some of the extra packaging that came with Quinn's Skylanders. Have you heard about these? We don't have the game, but my little guy is obsessed with the action figures. He was so excited when he woke up from his nap and saw the magnets I had made.
The fun thing about these is you can take whatever your kids are into and make magnets. It is a super fun way to get more use out of toy packaging too.
I love that this craft can appeal to boys or girls. Even teens aren't "too cool". I have been toying with the idea of using smaller rocks and dressing up some tacks. Give me some flat clear rocks and Modge Podge and I can rule the world <insert sinister laugh here>. Hope y'all enjoyed my takes on this simple project. Feel free to pin and and comment away (wink, wink)!
CLICK HERE TO SEE WHERE I PARTY AT!

Want FREE printables and more. Join my newsletter!
Subscribe to get our latest content by email.