Wedding season is just around the corner. Today I am linking up with lots of bloggy friends to offer all sorts of inspiration.
Lets get started with my sister's wedding which we crashed here. Her St. Patrick's day wedding, in blue and green, was full of all sorts of fun DIY ideas. As MOH I chipped in a lot of these projects and they were super simple. My sister rocked these mason jar centerpieces. Don't you love the fun little details she added? You can find out more about her DIY card box the husband and I helped out with here and the chocolate covered pretzel favors my mom, sister and I made here.
Instead of a traditional sign in book my sister opted for a sign in tree, which the husband whipped up.
While we are on my sister's wedding, lets talk about her shower. We went the non-traditional route and threw an evening cocktail shower. For favors (and their glasses for the night) we painted glasses. You can read more about the favors here. If you are curious about her bachelorette party click here.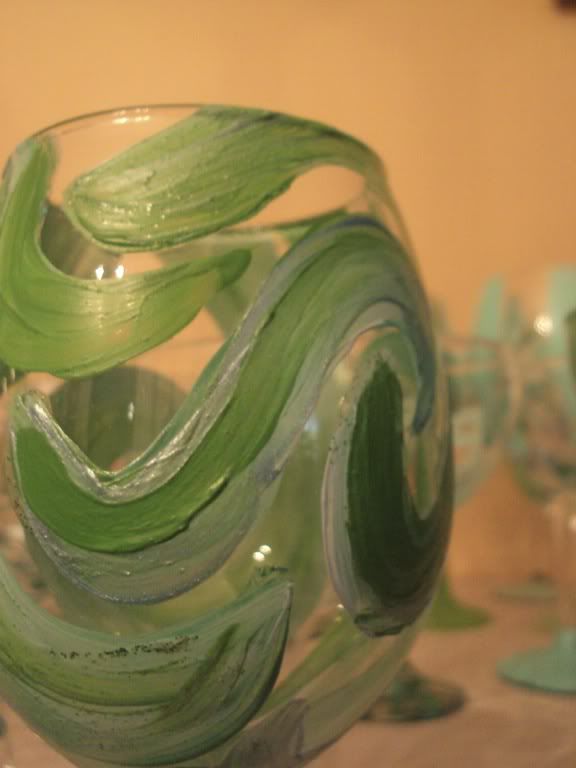 I also shared details from my wedding along with some wedding advice for the brides here. The most important thing to take away from it all is to just enjoy YOUR day! It passes so quickly and it isn't about the details, it is about celebrating your love with friends and family.
We did centerpiece cakes, which I highly recommend. They were fun to look at, delicious to eat and worked as a great ice breaker.
There are so many fun ways to make your day yours. I hope you found some inspiration here today. Don't forget to click on over to learn more about our special day and browse all the fun links below for more inspiration.
CLICK HERE TO SEE WHERE I PARTY AT!
Want FREE printables and more. Join my newsletter!
Subscribe to get our latest content by email.