This past weekend we celebrated the little guy's birthday. Some of you remember the balloon wreath I made for his party (here). I also made two balloon topiaries for decorations. Sometimes I think I am nuts putting so much effort into decorations for a three year old's party, but when he woke up Saturday morning and saw the house all decorated for his party he was so excited. The whole point is to make him feel special, to make that day feel different from every other day. So yes, maybe I am a little nuts, but when I saw the joy on his face it all felt worth it.
The topiary was constructed the same way as the balloon wreath (might want to check that out here). I bought a foam ball, foam cylinder, wood rod, balloons, floral pins, and glass beads. I also used a hot glue gun, spray paint, craft paint and a terra cotta pot I already had.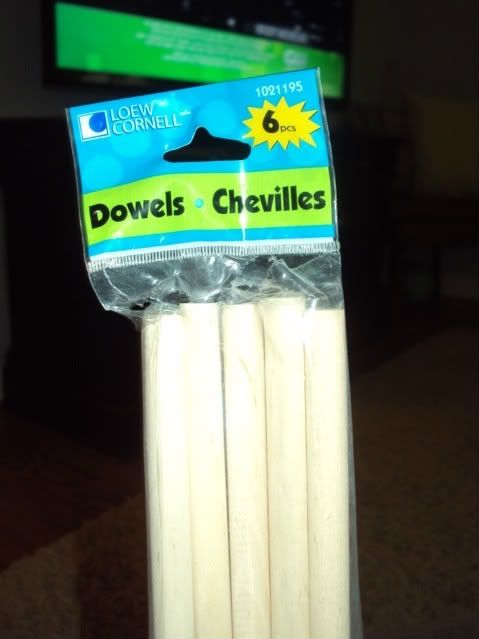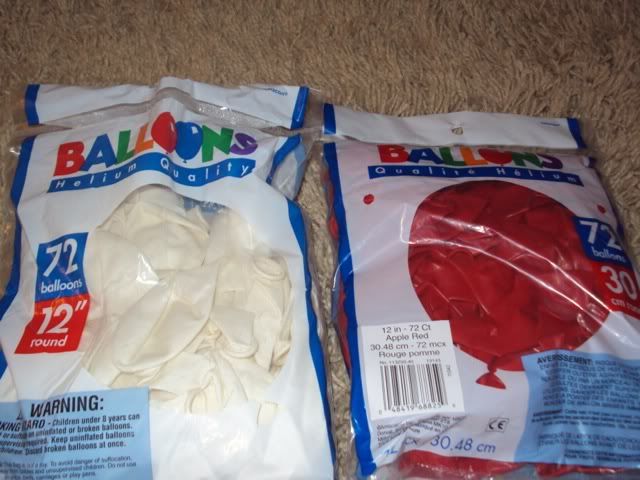 I started by attaching the balloons to the foam ball using floral pins. I used the same method as the wreath.
After the sphere was just about covered with balloons I shoved the rod in the sphere and then shoved it in the cylinder. Very scientific, I know. I kind of just pushed it until it didn't go anymore and it seemed secure.
I finished covering the sphere with balloons around the base. Then it sat like this for as week or two, because that is how I roll. The day before the party (when I have so many other things to do) I finally spray paint the terra cotta pots red and paint the rods white. I pulled the rod out to paint it and then put back in when it was dry.
Now that everything is painted and dry and it is like midnight and the party is at 10 in the morning, I start assembling everything. I busted out the hot glue gun. Of course I knock a wine glass over with the glue gun cord and it shatters and spills red wine everywhere. Nothing like cleaning up wine and glass mid-project in the middle of the night when you are trying to prep for a party. And no, I wasn't drinking the wine (it was left over from the other night). Probably should have cleaned the counter off before crafting, but I was excited to finally assemble my topiaries. Anyways, back to the hot glue gun. I just put some hot glue on the bottom of the cylinder and plopped it in the pot.
After I plopped it in the pot and it seemed the glue had dried/set I threw in some glass beads to add a little weight (so the whole thing didn't tip over) and to cover the ugly green foam. I apologize for not taking more photos of the process, but I was busy breaking wine glasses and freaking out about other random details. It is just part of that party planning process. What can I say? All of it was worth it because I was super happy with how they (I made two) turned out.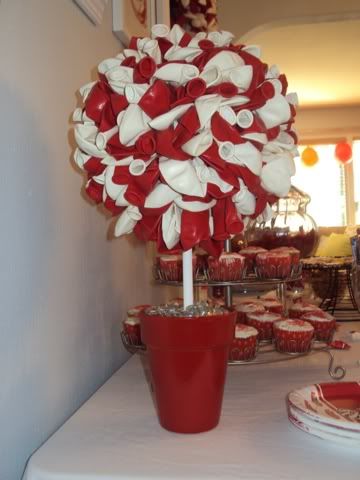 Love! So how many of you can relate to the middle of the night party prep and broken wine glass? I really was trying to avoid this, which is why I started these topiaries weeks ago, but obviously it
didn't work.
CLICK HERE TO SEE WHERE I PARTY AT!
Want FREE printables and more. Join my newsletter!
Subscribe to get our latest content by email.