So the little sister was in town this past weekend. She is getting married March 17 (St. Patrick's day). Her wedding is still a bit off, but this is the only time she will be home besides the holidays. With the holidays and her other shower to squeeze in we thought it best to make use of her visit and throw her shower this past weekend. Since her stay was so short we were a bit unconventional and threw a Friday night cocktail bridal shower. My sister-in-law was super generous and hosted it at her house. I would have loved to, but a four-month old, a toddler and a Friday night party sounded like a recipe for disaster. My sister-in-law Michelle, my cousin Robbie, my mom, my sister's bff Alyssa and myself all helped to throw the shower. We decided to go a little unconventional with the favors. Seeing as though it was a cocktail party we decided to do wine, martini, and margarita glasses as favors. To make it more fun and personal we decided to paint the glasses. The glasses served as their cups for the night (each one was different, so no which glass is mine moments) and as their favor. Nothing like killing two birds with one stone.
Because everyone loves a party we decided to have a pizza and painting party. We collected the glasses from various places (like 40 of them). My mom wrangled them up from estate sales, TJ Maxx and just about anywhere you can think of (go mom!). Before painting, the glasses need to be cleaned with rubbing alcohol. Rubbing alcohol can also be used for cleaning up any mistakes as well. We used a variety of paint brushes and sponges. We used Martha Stewart craft paint from her new line carried only at Michael's. The paint is top-rack dishwasher safe, non-toxic and good for just about any surface. After the glasses were painted they needed to cure for 21 days. If you don't have 21 days I believe you can bake them in the oven to hurry the process along. We did not do this so I cannot report back to you on how this works.
When the painting party started this is what we faced.
By the end of the night they looked like this.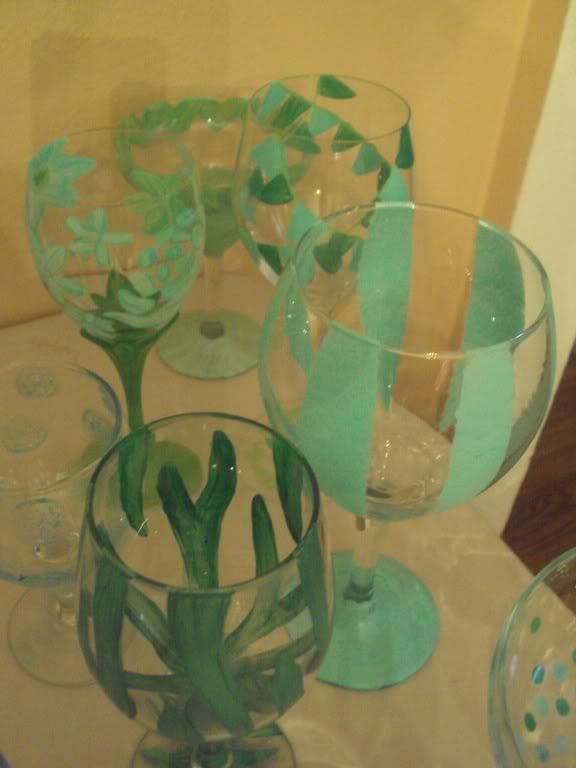 At the shower we set them all up on a table in the kitchen.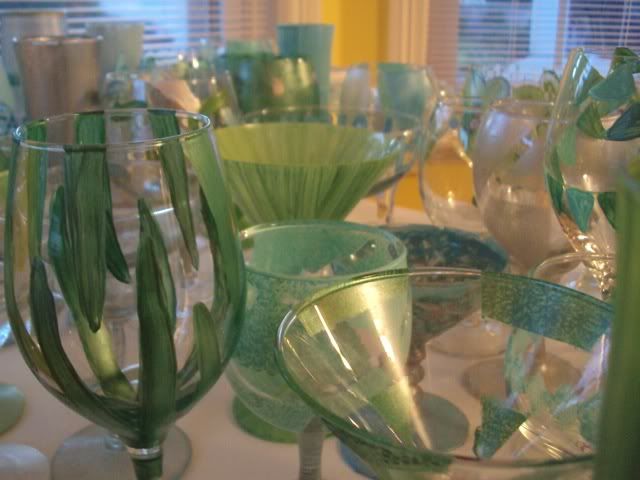 Check them out in use.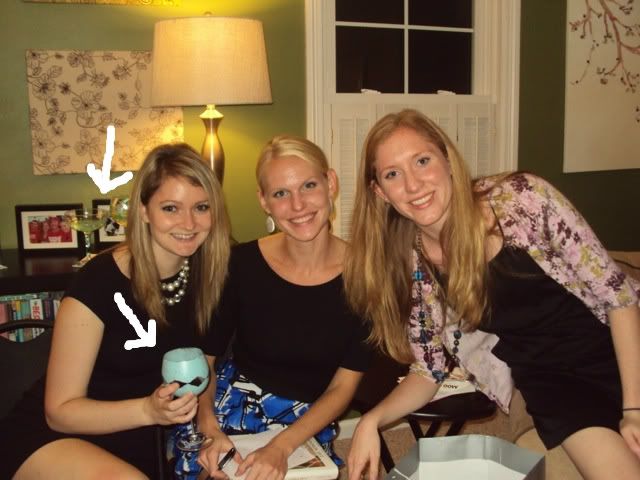 If I am going to be honest with y'all I have to say that this took hours. Somewhere along the line I think we ran out of ideas of what to do and were feeling a little antsy. Luckily we stuck with it and we were super happy with the result. They added a splash of color, worked as a nice ice breaker and were memorable and unique. I have a few more posts related to the shower. What have been your favorite favors from events you have attended?
CLICK HERE TO SEE WHERE I PARTY AT!
✕
Want FREE printables and more. Join my newsletter!
Subscribe to get our latest content by email.