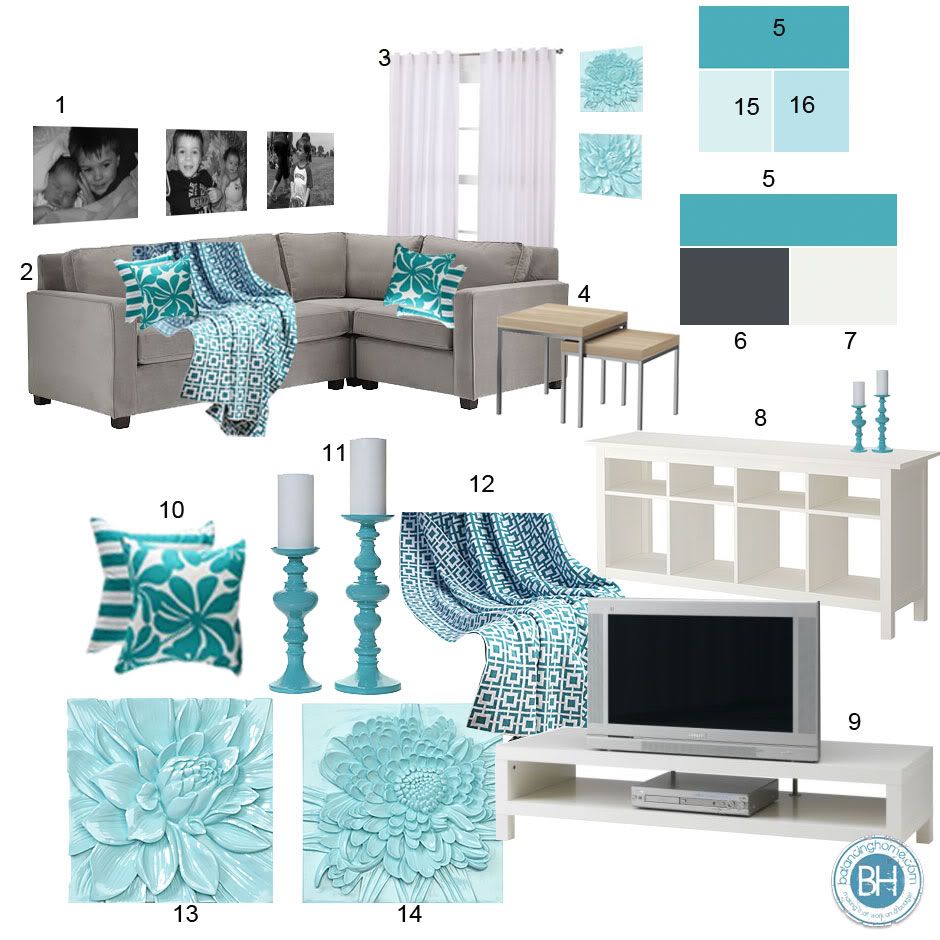 1- 16×20 framed photos of children in black and white. $13.99/each at Walgreens and often there is a promo code. Could paint frames Benjamin Moore Cool Aqua 2059-40 (5). Lovely way to add personality, yet keeping things clean and simple.
2- West Elm Henry Sectional (set 2) in Performance Velvet-Dove Gray; $1272.00 on sale now. I am loving the clean lines and classic shape. When kids are in the house, fabric that performs is a must.
3- Room Essentials Sailcloth Window Panel Pair in white (84″); $17.09 on sale now. These are back tabbed so they lay nice. The white brightens up a space, but is neutral so they will go with anything (you know, in case you change your mind).
4- IKEA Klubbo Nesting Tables w/ash veneer; set of 2 for 79.99. A wood top adds a little warmth to the space. I love the way this mixes metal and wood for an industrial look.
5- Benjamin Moore Cool Aqua 2059-40. This seemed to be a close match to the accents in the room so it would be good to have on hand for DIY projects (like painting frames).
6/7- Benjamin Moore Black Horizon 2132-230; Frostine AF-5. These colors were suggested to go with the Cool Aqua. Since we are accenting with Cool Aqua it is a pretty sure bet Frostine would be a lovely neutral for the walls.
8- IKEA Hemnes Sofa Table in white; $179.00. I think this would look lovely in front of a window with some plants and picture frames. Add some bins and you have instant toy storage with class.
9- IKEA Lack T.V. Unit in white; $49.00. Simple lines and with a price like that how could you pass it up? Sits lower to the ground so would work on a half wall as well.
10- Twirlies of Turquoise Collection- Designer Boutique 18″ Square Turquoise Flower and Stripe Cover by Chloe & Olive on Amazon.com; $20.50/one. These pillows have two different sides which make them extra fun and makes it even easier to change up your look.
11- Mariposa Pillar Holders in Aquamarine from ZGallerie; $12.95 for the 11″, $14.95 for the 14″. Love the shot of color these bring to the space. This type of decor is so flexible that they could really live anywhere in your house.
12- Grid Throw in Aquamarine from ZGallerie; $59.95. If you like to cozy up on the couch, why not do it in style? This is the kind of throw you can keep out.
13/14- Lotus Flower Plaque/Chrysanthemum Plaque in Aquamarine from ZGallerie; $39.95/each. At 13.5″x13.5″ this is the kind of piece that can make a statement and is well worth the money.
15/16- Benjamin Moore (15) Icy Moon Drops 2056-70 and (16) Blue Seafoam 2056-60. These are a less saturated version of the Cool Aqua. Both would be a nice option for a wall color if you are looking for something a little more serene that complements the gray sofa and the aquamarine accents.
CLICK HERE TO SEE WHERE I PARTY AT!
Want FREE printables and more. Join my newsletter!
Subscribe to get our latest content by email.