I hope you all enjoyed your Thanksgiving. On Thanksgiving day I posted what we were grateful for and we kicked off our iPad giveaway. Ross was off Wednesday through Sunday and it was AWESOME! The kiddos and I loved having daddy home. We need to win the lottery so Ross can join me in stay-at-home-parentdom.
We are lucky enough to have lots of family nearby and were able to celebrate Thanksgiving three times. The kiddos absolutely loved seeing so much family and playing with their cousins. I always remember that being the best part of the holidays. My cousins and I use to lock ourselves in my grandma's bathroom and play. She had mousse and we thought it was just so cool how it foamed up. We would take her round little cotton make-up pads and squirt the mousse on them like we were making adorable little desserts. My sweet grandma either had no idea (if you are reading this, sorry…we were kids!) or just didn't care. Every holiday ended with begging for sleepovers. My cousin Robbie and I would "glue our hands together" claiming that we absolutely could not be separated. Gluing our hands together just meant holding hands. No worries. What kind of trouble did you get in with your cousins? Anyone else end their childhood holidays campaigning for sleepovers with cousins?
We kind of hit a milestone on Thanksgiving too.
That is Eleanor sporting her first ever ponytail! I was so excited and tried taking a bunch of pictures. She didn't cooperate…surprise, surprise. I got her hair up while wet and when it dried it just fell out. Her hair is so wispy it is crazy. She certainly didn't get that from me. I have curly/wavy/frizzy hair. Either way, it blows my mind her hair is that long. Is it weird that things like this make me want to cry? They just grow up so darn fast.
As is tradition, we went and got our Christmas tree and lugged out the Christmas decorations over Thanksgiving weekend. This goofball is really into Christmas this year.
He asked me why we didn't decorate the hallways? It was so cute. You know, like the song. He also asked me why we call him Santa Claws when he doesn't have claws. Gotta love that kid. He also had the big job of putting the star up on the tree. He took it very seriously.
All this decorating meant we lugged out the bins of decorations and then of course the Christmas mantle got a few updates.
For more deets you can check out the original Christmas mantle post. We added some garland, my wrapping paper Christmas tree from last year and the nutcracker advent calendar.
I loved last year's reindeer advent calendar, but knew there was no way I could use it with Eleanor there. She would tear it down and eat all of the chocolate!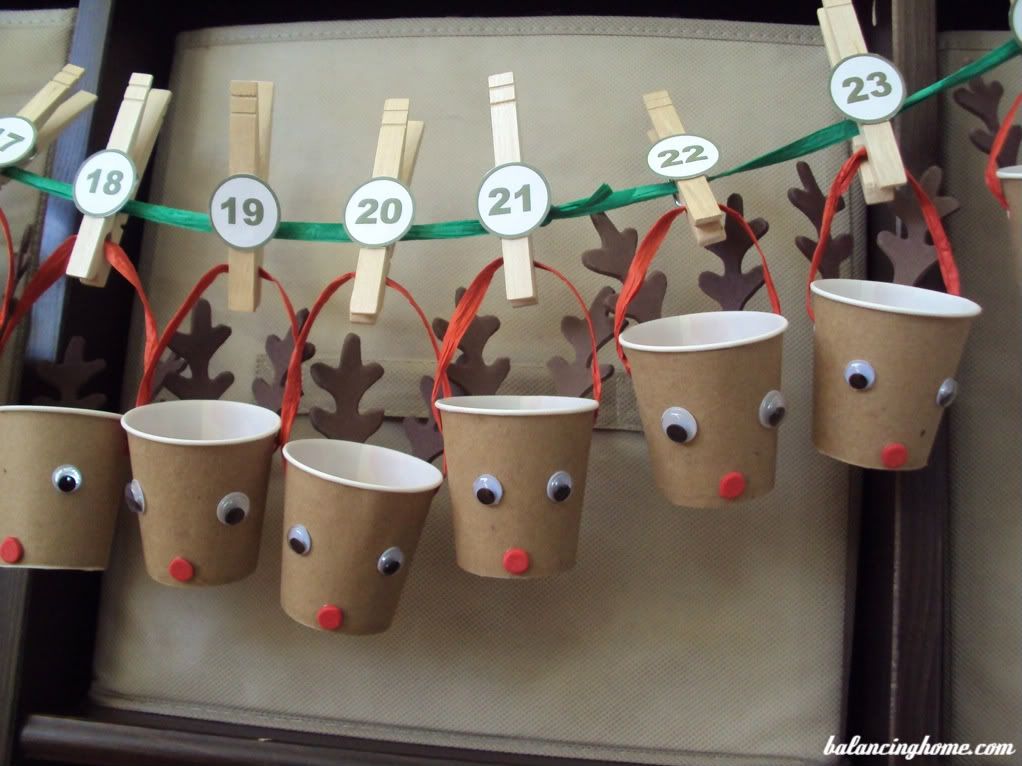 I intended on DIY'ing one, but I saw this for half off at Hobby Lobby and snatched it up.
In other very exciting news our elf on the shelf, Bruce, is back! Last year we shared 4 weeks of elf on the shelf ideas (you can find those here, here, here, and here), an elf on the shelf round-up and a special goodbye to our elf on the shelf.
We didn't do anything crazy or extravagant for the introduction. Bruce just hung out in the wreath until Quinn noticed him and then he got SUPER excited that Bruce was back. At the end of the week I will share what Bruce has been up to. Anyone else doing elf on the shelf? Are you waiting until December or has yours already arrived?
The tree is up, the shelf has been updated, Bruce is back, we had lots of fun with family, stuffed ourselves with food, shopped and enjoyed the start of the holiday season. Did you bust out the tree or the decorations yet?
Sharing these ideas at: Thrifty Decor Chick: Before and After Party
Want FREE printables and more. Join my newsletter!
Subscribe to get our latest content by email.