Too early to talk Christmas? It is only 7 weeks away! Eek! I have one gift bought. I know we still have Thanksgiving, but if I wait until after than to share my ideas you will all be scrambling. So paint dipped everything is completely the trend right now. I mean EVERYTHING. I thought I would try my hand at some paint dipped Christmas ornaments.
I was at JoAnn's and I saw these ornaments and they were like half off and I had coupons so I snatched them up along with some Martha Stewart paint. I squeezed the paint into a cup, dipped the ornaments and hung them to dry. Yes, children could do this! Kind of think that would be fun to do with the kiddos. A whole array of colors and dip away.
Now feels like as good of time as any to tell you all about my re-purposed light bulb ornaments from last year. If you are really getting into the holiday spirit, you can check my Holiday Idea Round Up from last year's Christmas. Links to all the ideas in that post can be found directly under each image.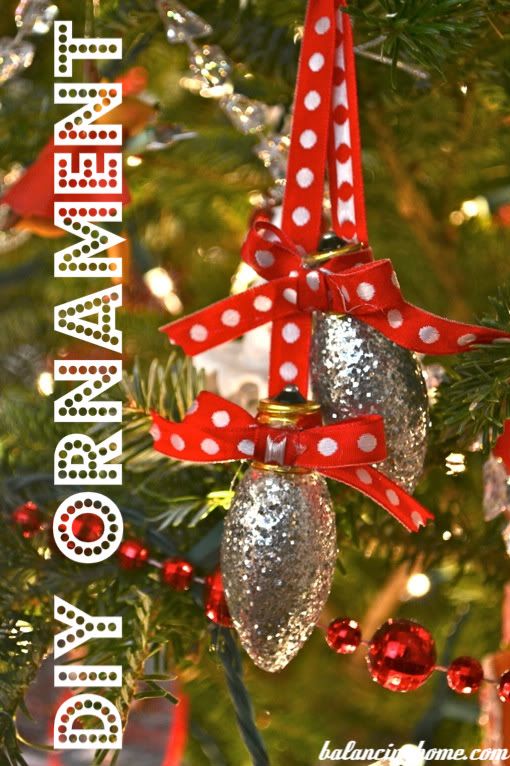 I got started on one other Christmas project so far—a few finishing touches and it will be ready to share! I will share them as I go. Any of you started yet?
I am a little curious to see what happens this year with Eleanor and the tree. We walked through one of the Christmas aisles at a store and Eleanor was picking up and touching every.single.ornament. Ross turned to me and said, "It will be interesting to see what she does with a tree this year." Any of you worried about little ones and your tree?
I am also doing the tree dance in my head. You know, the one where you rearrange furniture to figure out where the tree will go? There is a spot the tree will fit perfectly, but it isn't really an ideal setup for opening presents and photos Christmas morning. The corner, right next to my desk, will be a tight squeeze, but much more Christmas morning frenzy friendly.
Sharing this project at: Home Stories A to Z: Tutorials & Tips Link Party, Thrifty Decor Chick: Before and After Party
Want FREE printables and more. Join my newsletter!
Subscribe to get our latest content by email.