I firmly believe a home should reflect you and the people who live there. This is why I knew I wanted to create a spot on our gallery wall to show off the works of our littlest residents. The best part about this project is we made it with things we already had. You too, can rock this project for very little money.
The frame we used is an IKEA frame. The day we bought it we broke the glass trying to put a picture in it. For years the glassless frame has been sitting in our basement. Some of you might be thinking that you don't have a frame in your basement that is not being used because you broke the glass. This is probably true. But a frame from a thrift store or a rummage sale will do the trick. It can be fun and ornate and a little coat of paint can hide a plethora of injustices. So here is our sad little frame feeling all down on itself because it doesn't have glass like all its frame friends. Fear not little frame, we have big plans for you!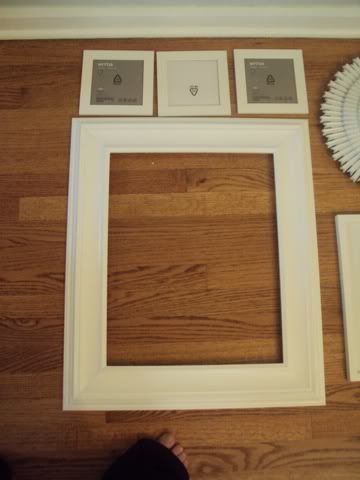 So the vision was to create a place to display kid art work. Originally I thought I wanted to fill the frame with something covered in fabric, but I couldn't commit to a color and I was afraid the background would compete with the art. Then I had a light bulb moment and decided to put some left over beadboard to work. The husband measured the back and headed to the garage to cut the beadboard panel to size.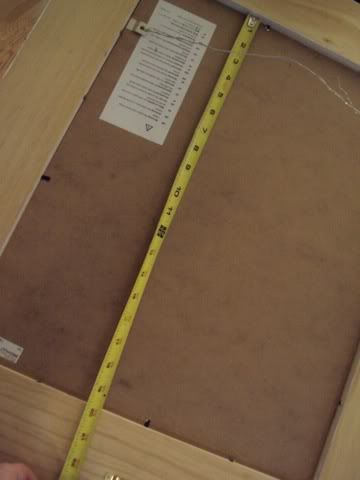 I figured since glass once fit with the back of the frame beadboard would fit with the back of the frame and it did.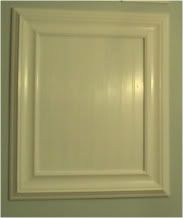 Excuse the worlds worst picture. I didn't realize I forgot to get a picture at this point in the stage. You get the point. Next, it was time to add the clip. I had these magnets I had picked up a while back.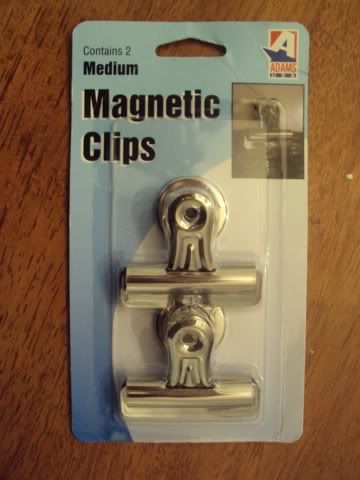 They were only a couple of bucks. I saw them at Micheal's and threw them in the cart because I figured they would come in handy some day. So far one clip has, the other is on the fridge (also handy…I suppose). Obviously my beadboard panel is not magnetic, but the clips had the look I was going for so I was going to make it work.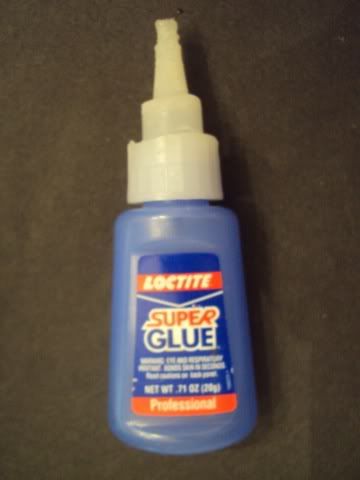 Enter the trusty super glue. Seriously, if you don't own it, buy it. Every DIY'er needs some. A dot of glue and we are in business! Check it!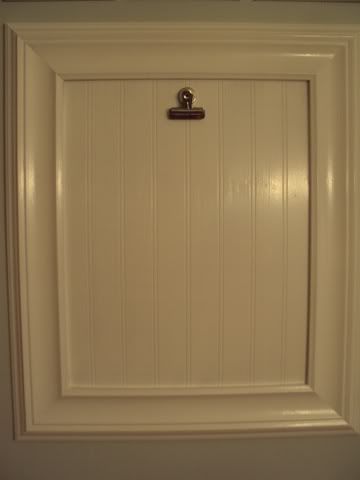 So now she is ready to show of the works of our budding artist. We had a little finger painting of Quinn's we clipped in real quick to get a feel.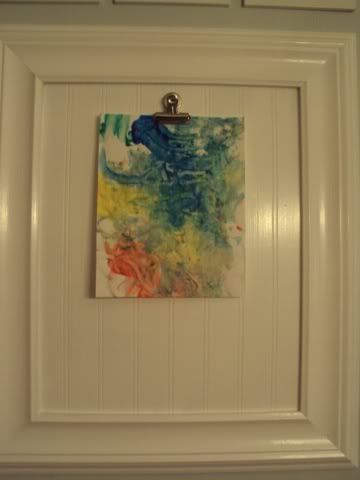 At this point we are really excited and proud of ourselves. We like to pat ourselves on the back and tell ourselves how awesome we are. Hey, something has to keep you going from one project to the next. Wrapping a project up and seeing our vision come to fruition is our "runner's high". After admiring our work for a bit I thought, duh! Quinn's ghost prints!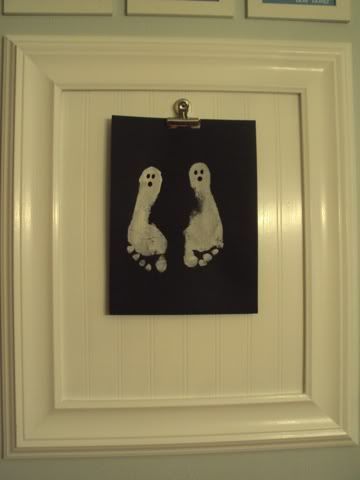 So now we are really on cloud nine, because two projects we really love just got married. As we admire our work Ross says, "Did I hang the clip too high? There is a lot of empty space at the bottom. Wouldn't it be cool if there was a plaque there or something?" To which I responded, "Why yes honey, it would be!" (or something like that). Immediately a vision of an IKEA box not being used flashes before me.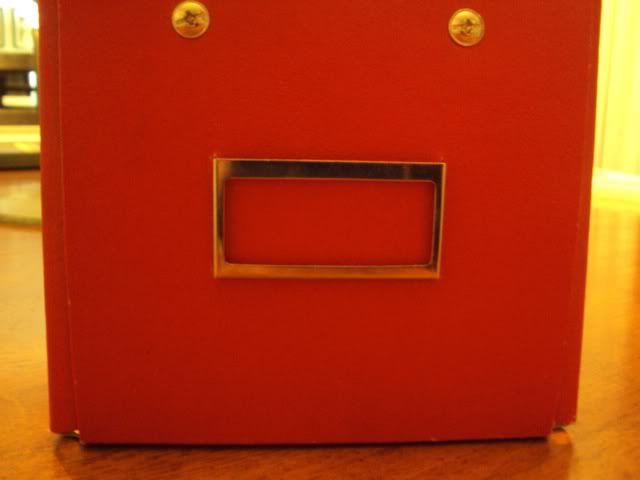 Hmm? If I can get that little label holder off we can glue it to our gallery display frame and the empty space will be filled. Our piece will have that fun, quirky touch. Seriously, we don't plan these things. Projects just evolve. I took out the two screws, unfolded the box, and popped out the label holder. The box went back together no problemo (sans label holder) so it is safe to say, no boxes were harmed in the making of this gallery display piece.
There are four little prongs on the back that were bent around the box to hold it place. We plopped a dot of super glue on the prongs and attached it to the beadboard.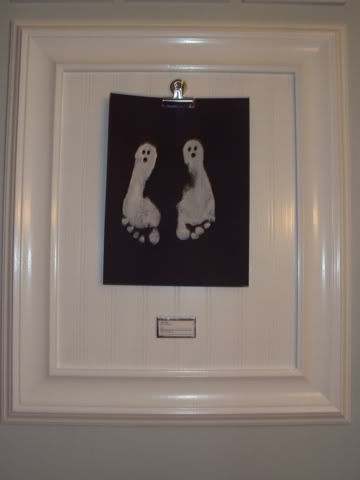 Maybe it is the fact that it is now midnight, who knows, but someone should stop us because we are having too much fun with this. We decided it would be hilarious to make a label just like the ones you see in the galleries. So my husband hopped on the computer and typed up a very professional label for Quinn's masterpiece.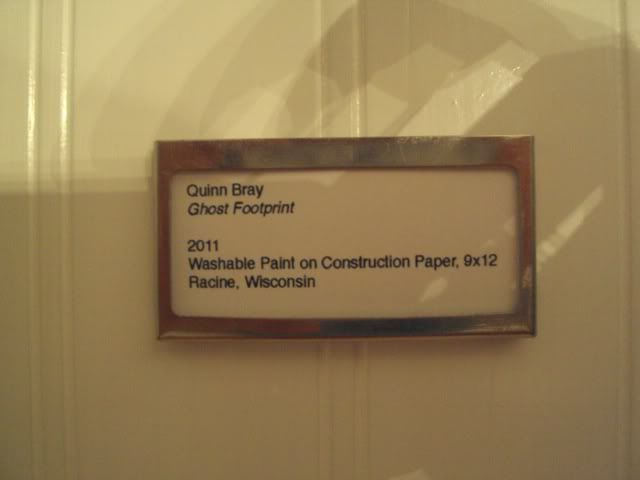 We find this hilarious and cute and quirky and all things us. The rest of you might just think we are crazy (and that is okay by us). This is the kind of thing you walk by and you smile. Your home should make you smile, it should "rise up to meet you" as I believe Oprah once said. I don't want to give the whole gallery wall away quite yet, but here are some more shots of the little rotating gallery we made for kid's work.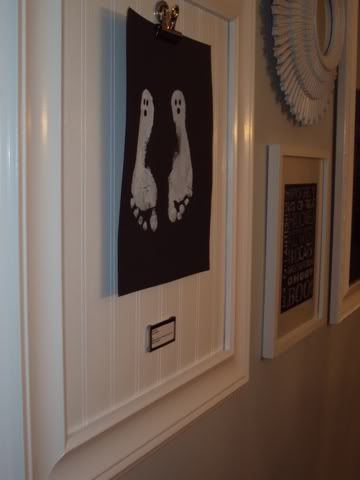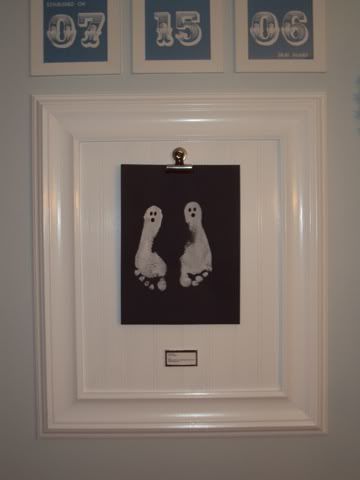 I hope I have inspired you to dig around your house and find new ways of using the things you already own. I am kind of glad we broke that glass, because it lead us to here. When life gives you lemons (or broken glass) make lemonade (or a cool rotating gallery for kid's work). How do you guys show off your kid's creations?
CLICK HERE TO SEE WHERE I PARTY AT!
✕
Want FREE printables and more. Join my newsletter!
Subscribe to get our latest content by email.