Around here Christmas has come down. Gone are the decorations, the printables and the pine needles. Quinn still talks about Christmas like it is coming up any day now. Guess he is going to take a little longer to get over it.
I really loved the magic Quinn brought to Christmas this year. Such an exciting time when you are three! For a second there I was a little worried about the monster we had created! By the time we were on our third Christmas he knew the drill was was like, "Where are my presents?" Turns out my kids aren't perfect (sarcasm).
Do you remember how exciting Christmas was as a kid? Growing up I always opened my presents super slow. I even went through a list making stage where I would write down what I got. How annoying is that? YIKES! It is true though. I have a twin brother, a younger sister and a younger brother and they would get so annoyed with me when they were finished opening their gifts and I was still going. Over Christmas my brother and I were laughing about how we would circle EVERYTHING in the JCPenney catalog. Such fun! What kind of kid were you at Christmas? Were you the tear-it-open-in-a-big-hurry or take-your-time kind of gift opener? Or did you take it one step further and make lists like me? There has to be someone else out there who wrote down what Santa got them! There just has to be! Speak up :).
Well here is a look at my little one's Christmas morning. (Seriously people! could that little girl be any cuter!). She sure got into opening her presents. Love it!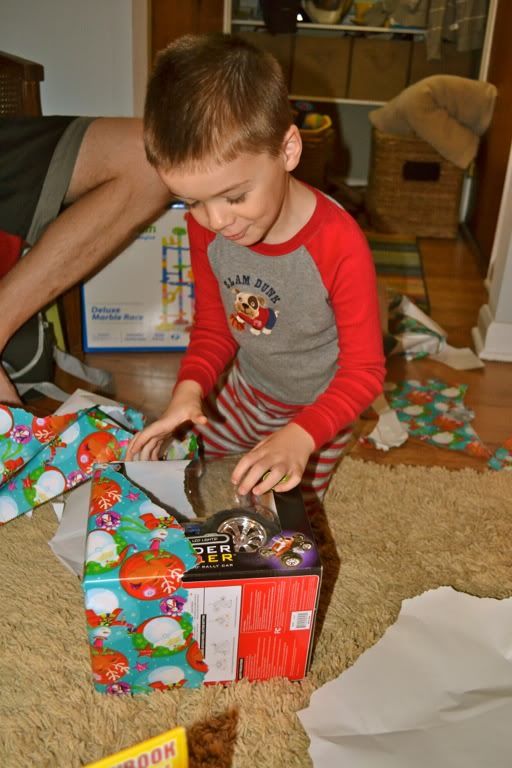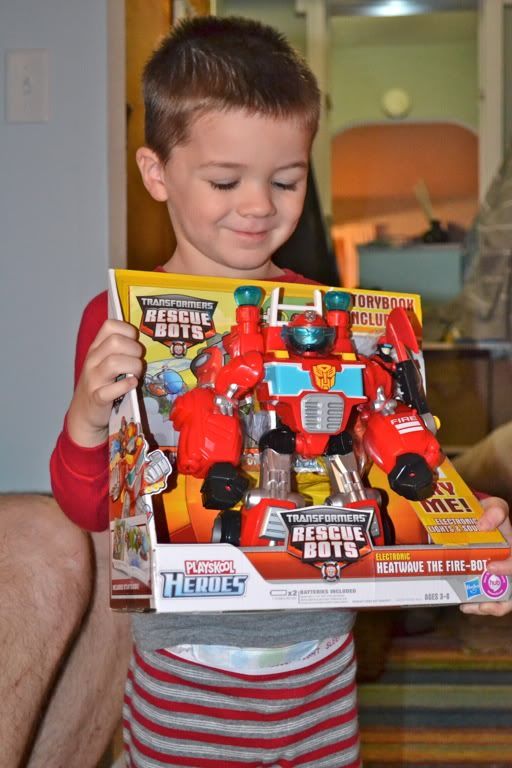 Christmas was one ball of fun, family, food, presents and exhaustion. Man can celebrating get tiring.
When it came time to pack up the Christmas stuff I realized that we put our dining room shelf up during Christmas, therefore it has never existed without all the Christmas decor. I thought I would give you a look at the shelf now that it has been de-Christmasfied (that is a word).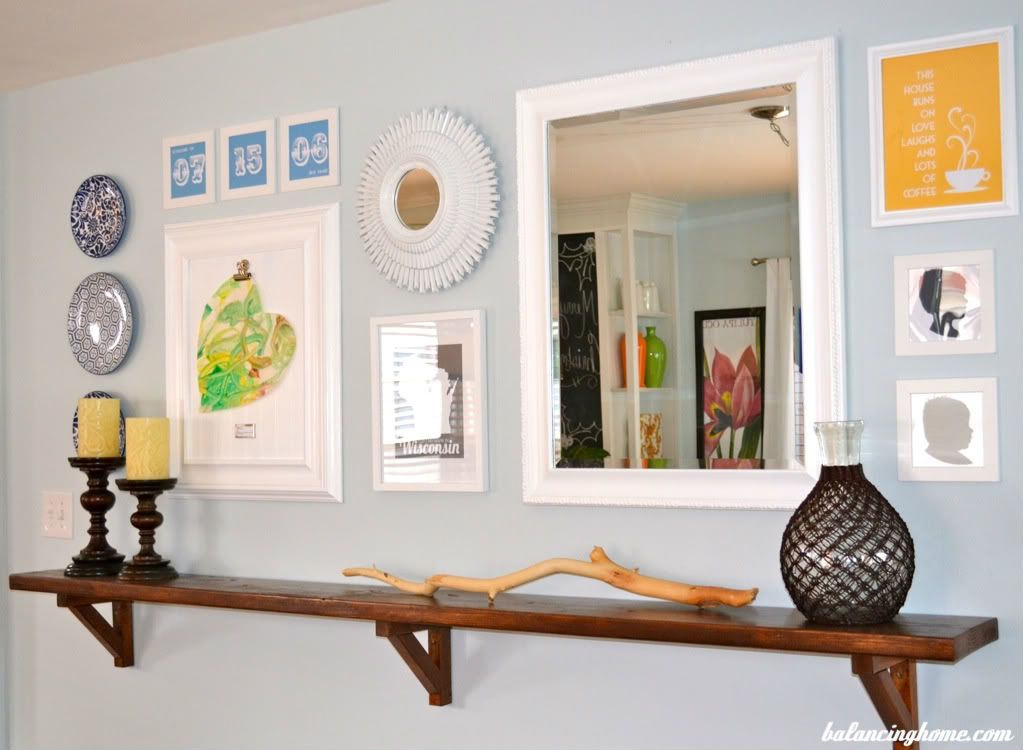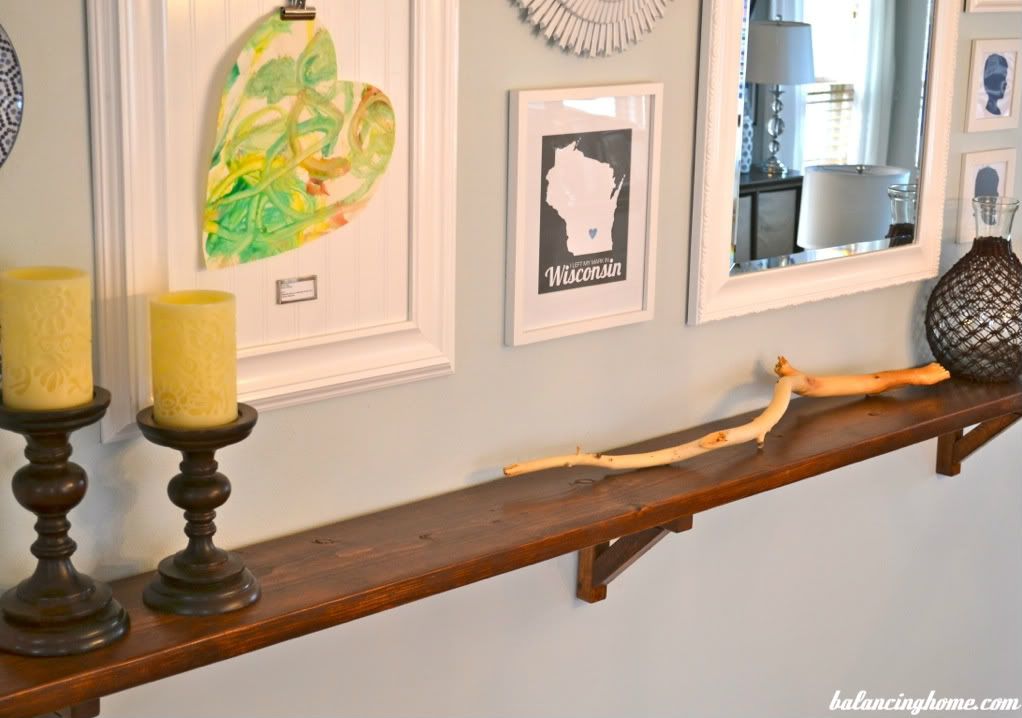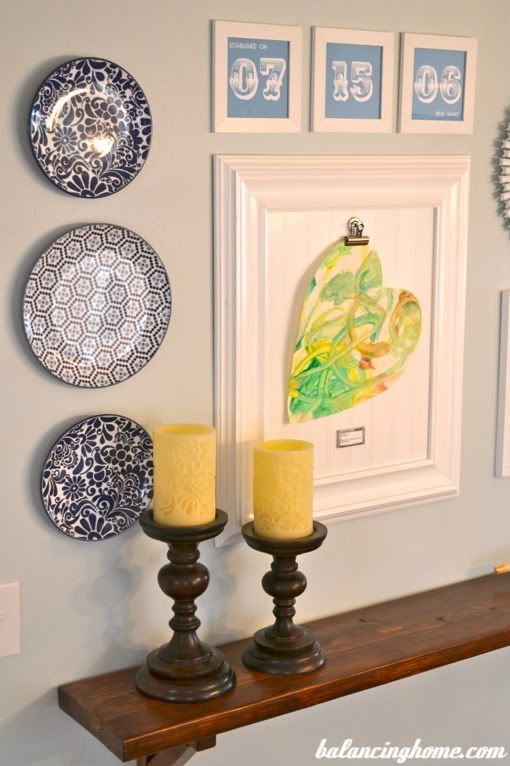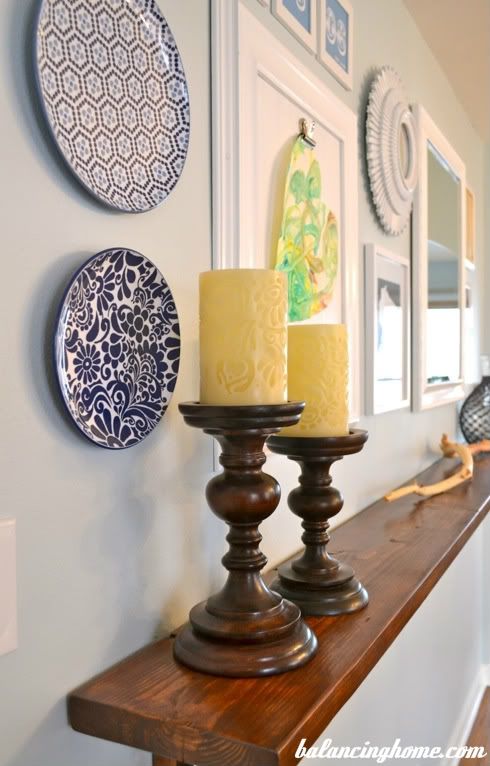 There are so many things I love about this shelf. Like the fact my husband crafted it for nearly nothing (post here) and the fact our rotating gallery (post here) shows off Quinn's work. I love that our anniversary date and the kids' silhouettes are the artwork in the space. I love the sunburst mirror made from a rummage sale clock (post here). I love how my home state is represented in art made by the hubs and me (check that out here). I love that the branch from my childhood home (I have saved it from my first house since I was 10!) brings in a natural element.
Now the shelf finishes off the gallery wall. The space went from bland and drab to totally us! How do you make your home YOU? What kind of personal touches do you add to your home?
CLICK HERE TO SEE WHERE I PARTY AT!
Want FREE printables and more. Join my newsletter!
Subscribe to get our latest content by email.